20 Comfort Soup Recipes to Make When You're Sick
6 min read
When it's the season of sniffles and sore throats, there's nothing that's quite as comforting as warm soup. But chicken noodle soup can get old, especially if you're sick for more than a few days.
Luckily, there are plenty of other soups that make you feel warm and cozy while delivering similar health benefits as chicken noodle soup.
For example, broth is one way to keep yourself hydrated when you're sick, according to the Centers for Disease Control and Prevention. And the antioxidants from veggies and herbs in many soups help support your immune system, according to the Harvard T.H. Chan School of Public Health.
Here are 20 recipes that aren't chicken noodle soup that can still help you feel better — physically and mentally.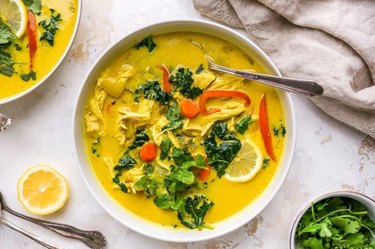 This flavorful soup packs antioxidant-rich veggies and anti-inflammatory spices that help support a healthy immune system, according to an April 2013 study in the ‌International Journal of Preventive Medicine‌. While the chicken and kale are a good way to get vegetables and protein into your system, the herbs and veggies are what make it a detox soup. Plus, when you're feeling lousy it's a bonus that it only needs to simmer for about 20 minutes and can last for up to five days in the fridge.
2. Anti-Inflammatory Veggie Soup With Turmeric
Turmeric is known for its antioxidant and anti-inflammatory properties, according to Johns Hopkins Medicine. The lentils, potatoes, spinach and other veggies in this soup offer filling protein and plenty of vitamins. This soup isn't hard to make, especially when you're tired: Including prep time, it only takes 35 minutes.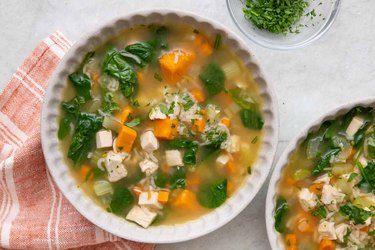 While it's not chicken noodle soup, this soup recipe still comes with sources of vitamin A and C. Switching out chicken for turkey gives you the protein you need with less fat, according to the USDA. The recipe requires the basic ingredients like celery, carrots, onions and chicken stock, which can be used for lots of other soup recipes.
4. Loaded Baked Potato Soup
This soup contains comforting classics like bacon, cheddar cheese and sour cream, plus immune-supporting celery, carrots, potatoes and chicken broth. Added garlic, thyme and bay leaves pack serious flavor. This soup is best enjoyed while curled up on the couch.
5. Italian Wedding Soup With Quinoa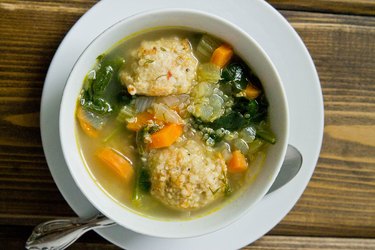 This soup is a close relative of chicken noodle with its celery, carrots, onions and chicken broth, but the meatballs are a tasty twist. Made with chicken breast, hot Italian chicken sausage, bread crumbs and Parmesan cheese, this recipe only takes 30 minutes of prep and 30 minutes of cook time.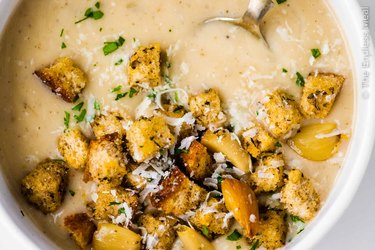 Three heads of roasted garlic, cream, white wine, chicken stock and homemade Italian seasoning combine in this cozy, flavorful bowl. Because the garlic is roasted in the oven, it won't leave your soup (or mouth) with an overwhelmingly pungent flavor. Plus, while more research is needed, some preliminary evidence suggests garlic may support a healthy immune system.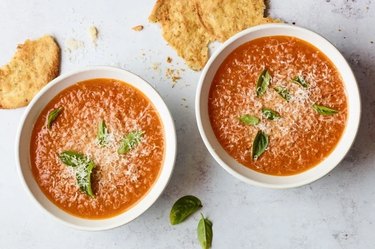 There are barely any ingredients in this recipe — you might not even have to make a grocery run. It's made with tomatoes, onion, veggie broth and basil, along with a few other spices. The soup is very light and shouldn't bother an upset stomach.
8. Cream of Broccoli Soup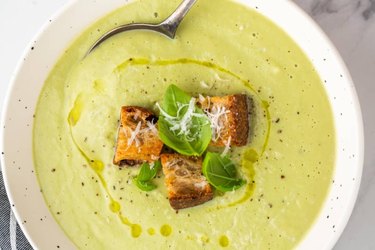 While broccoli soup usually has a reputation for being extra-cheesy, this recipe is lighter on an upset stomach with only a sprinkle of Parmesan on top. Plus, the garlic and lemon will delight your tastebuds even if you're stuffed up.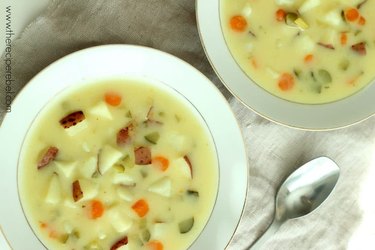 Yes, you read that right — but don't knock it until you've tried it. This potato and dill recipe is a unique take on comforting soup that's definitely not chicken noodle. Plus, it's still nutritious with plenty of vitamin-rich veggies.
10. Vegan Autumn Glow Soup
This vegan homemade version is perfect for any fans of the Autumn Squash Soup from Panera. Get a taste of fall — no matter the season — with this mix of butternut and acorn squash, along with additional fall flavors. It only takes 15 minutes of prep time, and you can rest while it cooks for 45 more minutes.
11. White Bean and Lemon Soup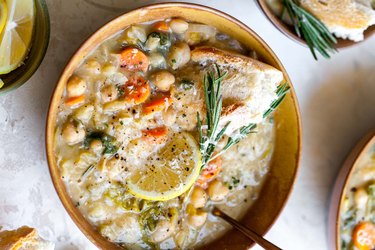 This vegetarian soup won't sit too heavy in your stomach, but you'll still get plenty of plant-based protein from the chickpeas and cannellini beans. What really makes this soup unique is the helping of escarole — but you can also replace the leafy green with kale if you prefer. It only takes 5 minutes to prepare the soup before it cooks.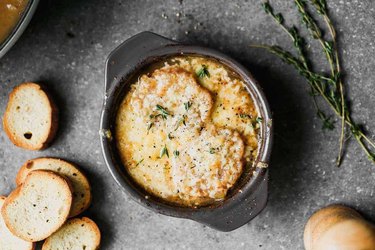 Treat yourself with a taste of France. This take on French onion soup has the essential caramelized onions, beef broth and some freshly grated Gruyère and Parmesan cheese, plus hints of bay leaves, garlic and thyme.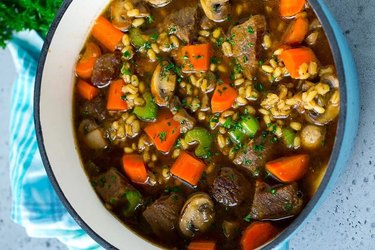 If your whole family is sick, this is a hearty option that can keep everyone full (or leave you with plenty of leftovers). By the time this recipe is done, you'll have tender beef and simmered vegetables. The barley offers an added bonus of fiber, and the whole thing only takes 20 minutes to prep.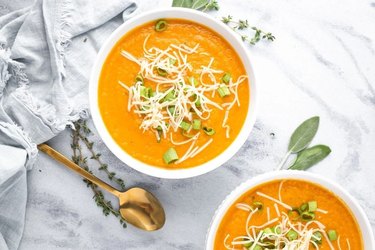 Carrots deliver plenty of vitamin A, which helps in immune function, according to the Office of Dietary Supplements. Carrots are the main ingredient here, but the dish is flavored with cumin, turmeric, cayenne pepper, thyme and sage. The quinoa adds protein without making the soup too heavy.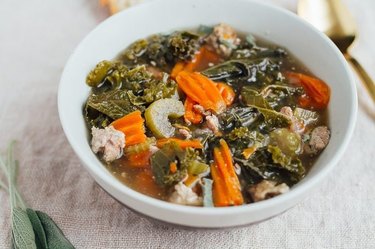 The ingredients in this soup are similar to the average chicken noodle soup. What makes it different (and delicious) is the added sausage and kale instead of chicken. Kale is rich in vitamin A, according to the USDA, for a healthy immune system.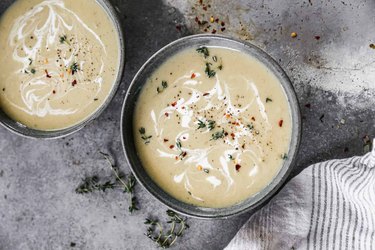 This soup only takes 40 minutes to prep and cook. The thyme and bay leaves pair perfectly with the bacon and leeks. It's also easily modifiable for various dietary restrictions: It's naturally gluten-free and can be made vegetarian or vegan.
Spice up your comfort soup recipes with this Mexican-inspired soup created by a professional chef. You'll get your share of produce from the tomatoes and kale, flavored with lime, black pepper and ancho chiles. Complete the dish with avocado, cheddar cheese and cilantro on top — and dip tortilla chips into it if you're looking for a crunch.
18. Simple Parsnip Ginger Soup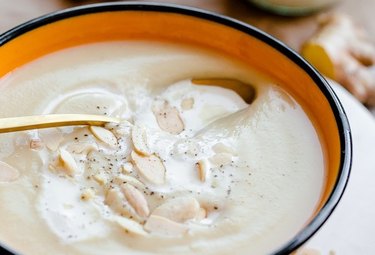 Parsnips are an excellent source of vitamin C and potassium, and they have anti-inflammatory benefits, according to Michigan State University, while ginger might help settle an upset stomach, according to according to an April 2013 study in the ‌International Journal of Preventive Medicine‌. The main ingredients in this cozy bowl are ginger and parsnips, but the creamy soup also has a bit of spice from the cayenne pepper.
19. Roasted Eggplant Soup
The main ingredients in this Italian-inspired dish are white beans, kale, pasta, tomato broth and, of course, eggplant. It's on the lighter side, even though each serving is filled with 15 grams of protein. The tomatoes and kale offer plenty of immune-supporting antioxidants and vitamins.
20. Slow Cooker Turkey Sausage, Squash and Quinoa Soup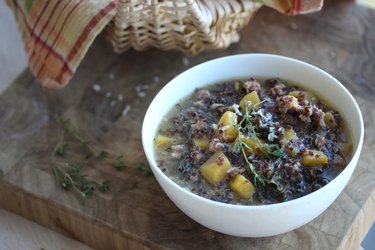 This soup requires a bit more time and effort: It cooks for about 8 hours, but it's totally worth it. With 18 grams of protein per serving and immune-supporting vitamins A and C, you'll feel full and happy after digging in.
link