25 Easy Winter Recipes to Beat the Winter Blues
12 min read
With fall on its way out the door (crazy, right?), it's time to shift our focus. Maybe you've hung the garland, arranged the stockings, and put your finishing touches on the tree, but have you given much thought to your winter menu? If you're like me, having a few go-to, easy winter recipes in your back pocket can make all the difference during this busy holiday season.
For many of us, winter is all about embracing coziness. Frank Loesser was not wrong when he told us the weather outside is frightful, which is why these easy winter recipes are all about comfort. A bowl of polenta, a mug of soup, or a pepperminty cake can be your cure to the winter blues that—no matter how hard we try to shoo away—come out of hibernation this time of year.
If you're anti-Daylight Savings Time, prone to seasonal allergies, or just looking for a pick-me-up meal, these recipes are your friends. They're full of comforting and satisfying elements that are celebrated in the easiest ways to give us that sense of ease this time of year. I don't know about you, but I'm all about it.
Featured image of Sophie Collins by Christie Graham.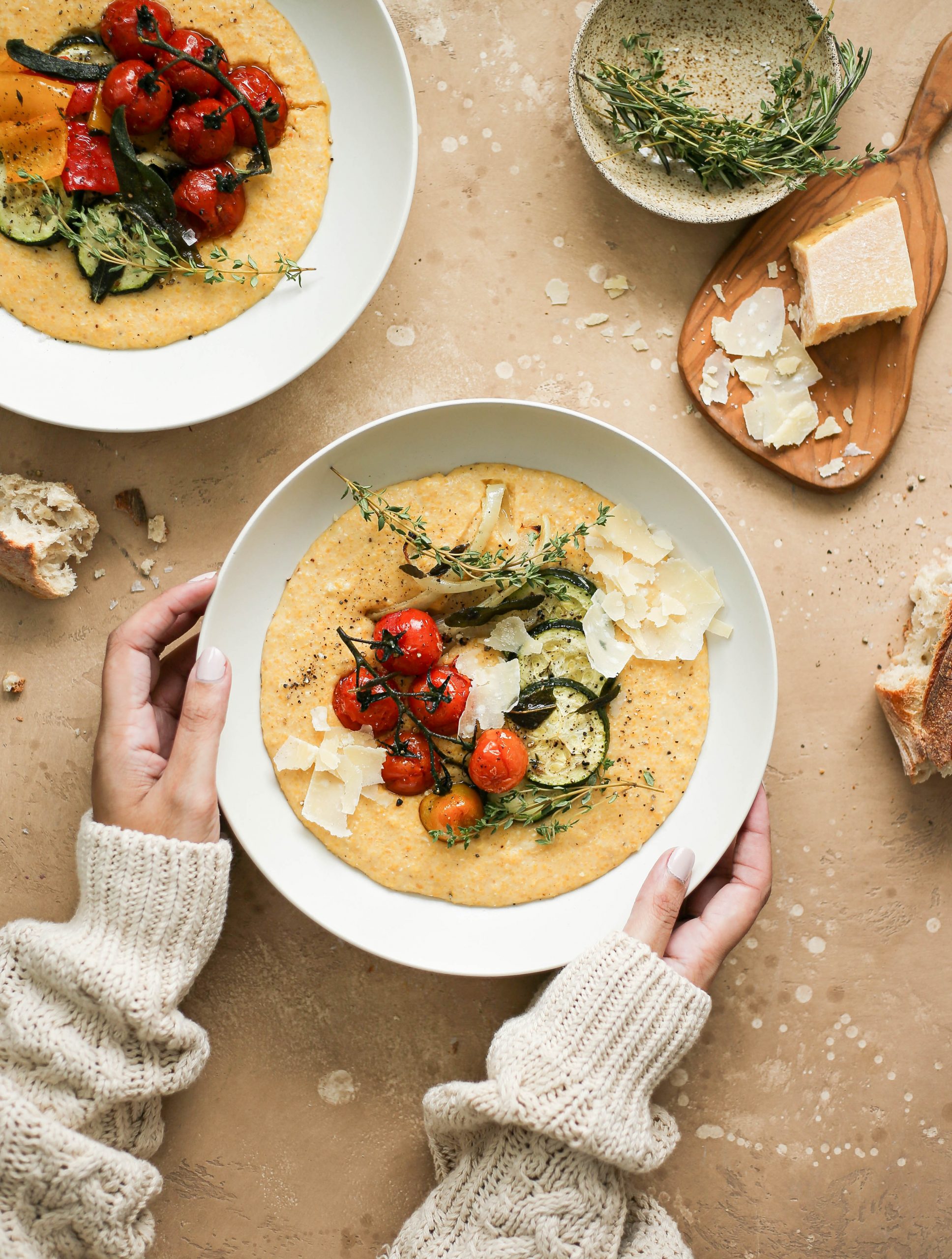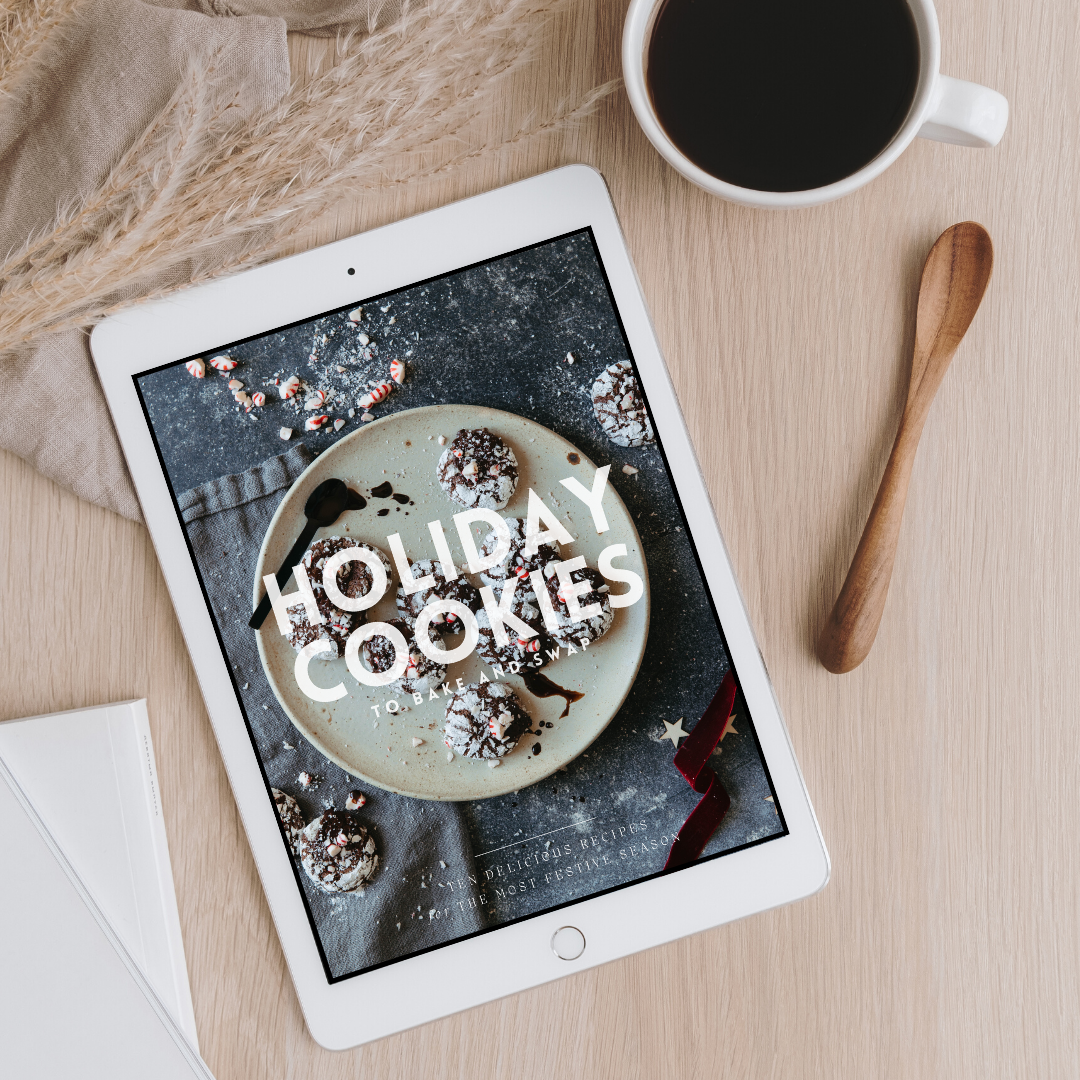 Subscribe
Let's Bake
Sign up to grab the FREE Holiday Cookie E-Book featuring 10 exclusive cookie recipes plus a bonus cookie swap guide.
Thanks for Signing Up!
Oops!
Looks like you're already signed up or your email address is invalid.
In this list, you'll find a little bit of everything. Whether it's a soup, pizza, muffin, or cake, there's a lot of wintery goodness to unpack. Much like Christmas morning, I'd encourage you to dive right in and unwrap the foolproof recipes we've got in store for you. They're all easy and tailor-made for chilly winter days, nights, and everything in between. Read on for our picks of easy winter recipes that help beat those dreaded winter blues.
Savory Easy Winter Recipes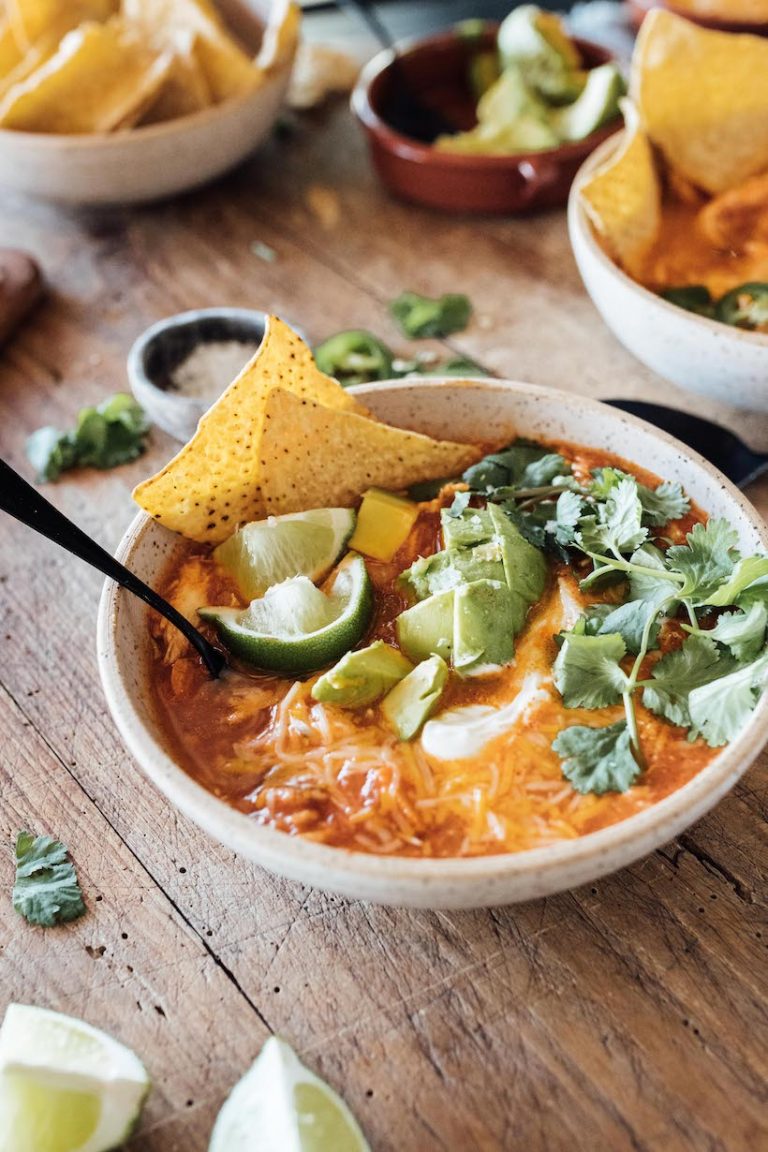 Easy Mexican Chicken Tortilla Soup
Why We Love It: I've had this recipe on repeat for chilly fall nights, and I see no reason why that shouldn't continue into winter. It's cozy, comforting, and full of flavor—plus, it lasts me so long. Granted, I'm only cooking for one, but this is the soup that truly keeps on giving. Make a big batch at the beginning of the week to enjoy all week long. Pro tip: If you're low on broth later in the week, serve up what's left on warm corn tortillas for a taco-esque dish. You could literally eat it for every meal and not get tired of it—and that's saying something.
Hero Ingredient: The fresh cilantro flavor shines through twofold: once in fresh cilantro form and again in the ground coriander that flavors the broth. It's magical.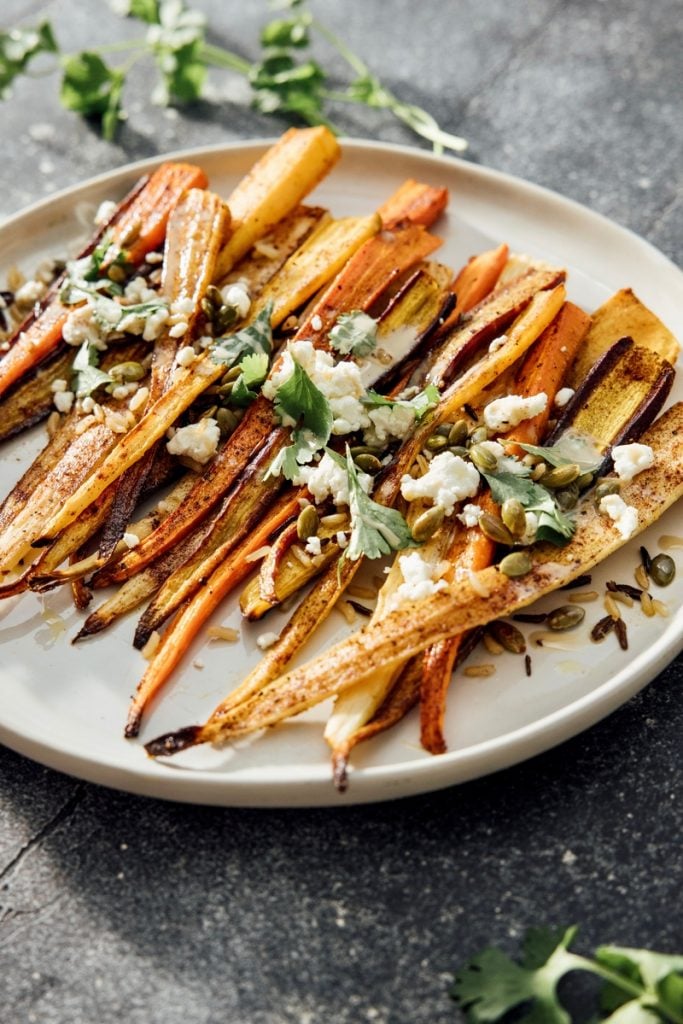 Roasted Heirloom Carrots With Wild Rice And Tahini
Why We Love It: Like Brussels sprouts, cabbage, and peas, carrots are often associated with the bland, overcooked veggies that our parents would encourage us to eat at dinnertime. But those days are gone, folks! Carrots deserve to be celebrated for the powerful vegetables they are. In this recipe, they're beautifully caramelized and accented by a tahini sauce, toasted pepitas, crumbled goat cheese, and a whole slew of warming spices. Say goodbye to bland carrots and hello to your new weeknight fave.
Hero Ingredient: A little fresh cilantro over top brightens up the entire dish.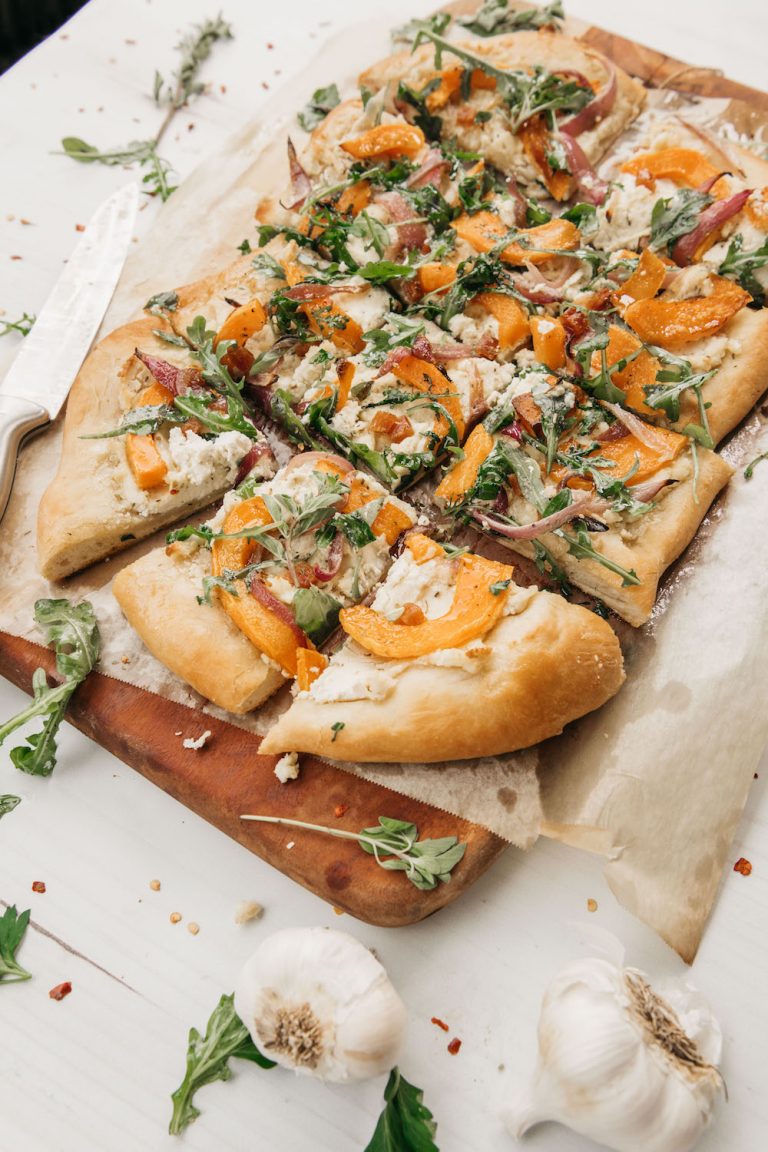 Butternut Squash Pizza With Arugula & Almond Ricotta
Why We Love It: When it comes to easy winter recipes, pizza is king. Not only is it a breeze to make, but it leaves you with something that feels celebratory. This version uses the seasonal favorite that is creamy butternut squash. The squash is joined by salty bacon bits, sharp red onion, peppery arugula, and an almond ricotta base you'll want to bookmark. It's simple, tasty, and presents you with a whole that's so much greater than the sum of its parts.
Hero Ingredient: Yes, you can make your own pizza dough. But because these are easy winter recipes, there's no shame in using store-bought dough. In fact, it's encouraged.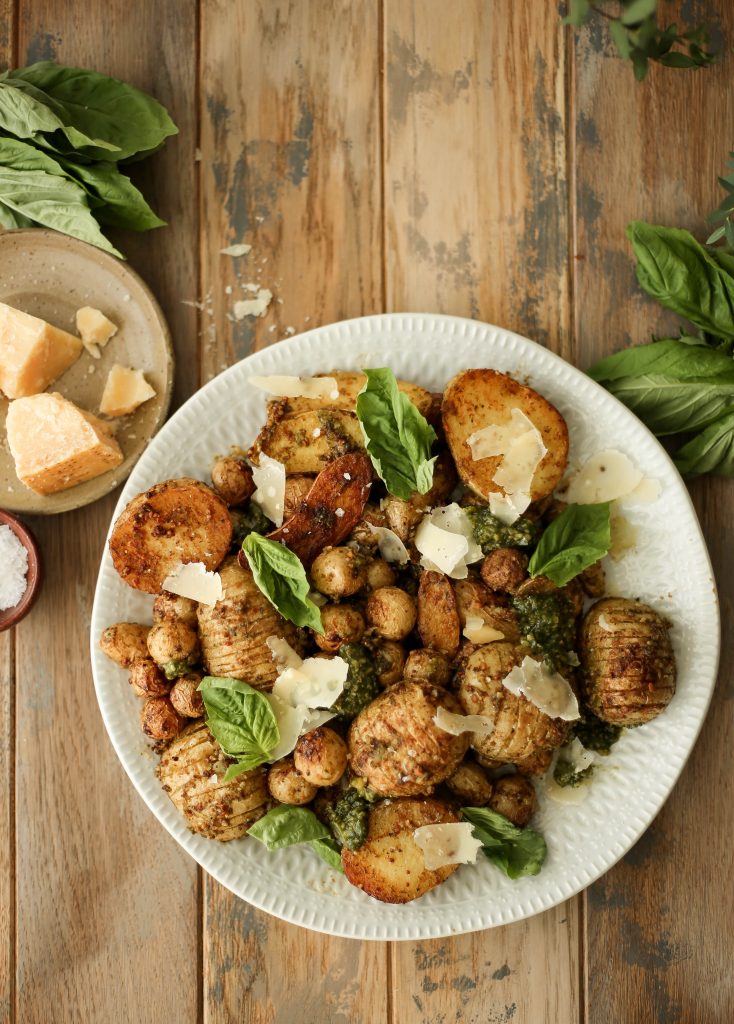 Pesto Parmesan Potatoes
Why We Love It: Let's face it, potatoes are amazing in every form. Mashed, roasted, fried, you name it… potatoes are winners through and through. In this recipe, they're hasselback-ed, roasted, and topped with golden caramelized garlic and vibrant pesto. The best part? Little golden brown potato edges. Talk about a winner.
Hero Ingredient: To break up all that richness, squeeze a little fresh lemon juice over top. You'll be glad you did.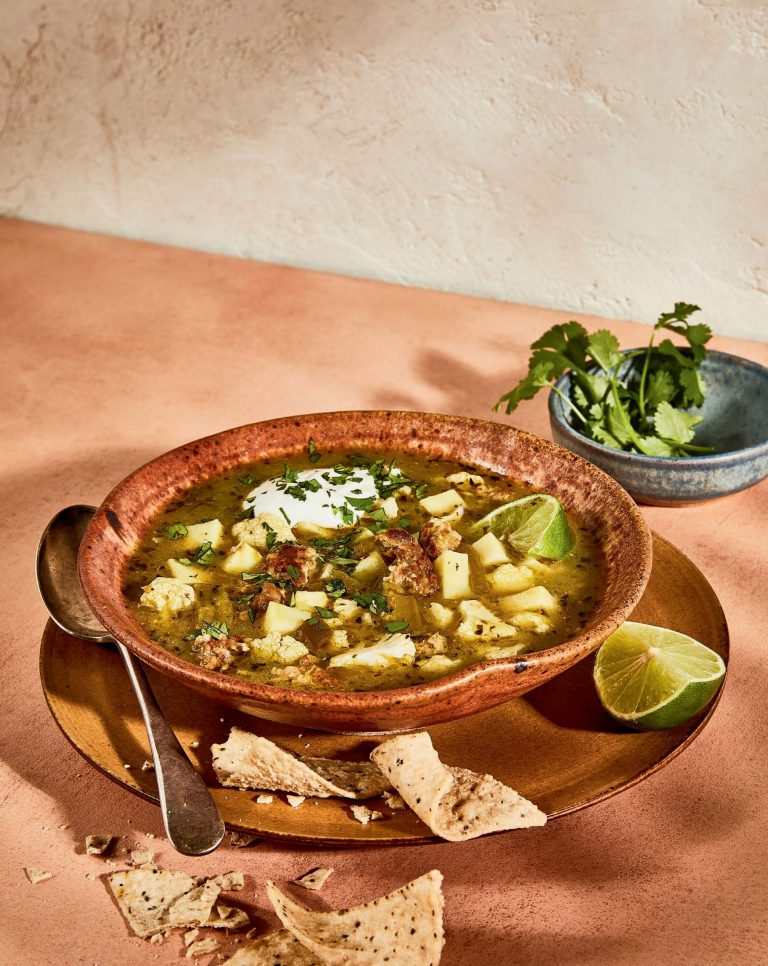 Turkey Chili Verde
Why We Love It: In the world of easy winter recipes, soups are a no-brainer. They're practically designed for batch cooking and can last you days, weeks, or even months if you choose to freeze your leftovers. This Turkey Chili Verde is no exception and even packs a healthy dose of protein into your day. The seasoning blend is part of what sets this chili apart. It features oregano, cumin, white pepper, and a hint of cinnamon to flavor the broth to sheer perfection.
Hero Ingredient: Shortcut alert! You can use Siete Enchilada Sauce in place of a homemade version. It's a real game-changer.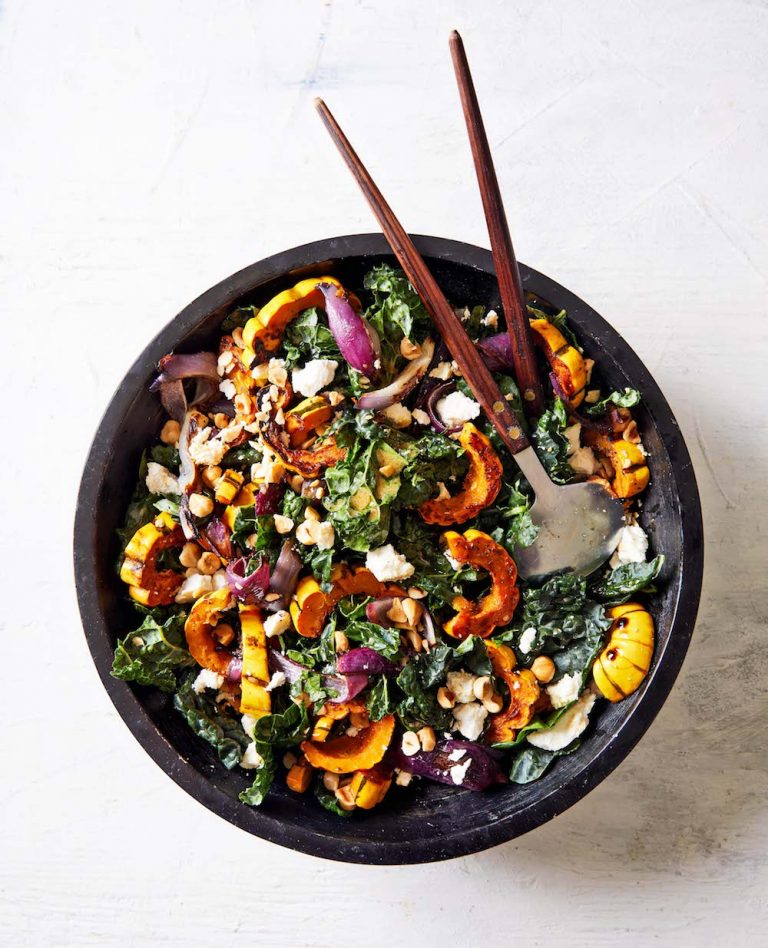 Warm Roasted Delicata Squash and Kale Salad
Why We Love It: Sheela Prakash shared this recipe with us from her cookbook, Mediterranean Every Day, and we're so glad she did. First, you can make this entire recipe ahead of time—yes, dressed and all. Since it uses kale as the base, you won't have any wilted leaves when the clock strikes meal time. In addition to that, the oven does a lot of the work for you by roasting the squash. From there, all you have to do is whisk up a dressing and assemble.
Hero Ingredient: Toasty hazelnuts bring a crunch and nuttiness to the salad that's both complementary and seasonal.
Pesto Gnocchi Skillet Bake
Why We Love It: Simply put, this one ticks all the boxes. Minimal ingredients? Try five. One-pan? You betcha. Comfort and flavor? Take a bite and see for yourself! This cheesy Pesto Gnocchi Skillet Bake is chock full of cozy vibes and easy steps that take you from pan to plate in under 45 minutes. You can use store-bought pesto to keep prep that much more minimal. Or, if you're up to it, try this easy homemade vegan pesto recipe. Either way is a winner.
Hero Ingredient: Cream cheese brings a touch of tang to the sauce that's unapologetically indulgent. Go big or go home!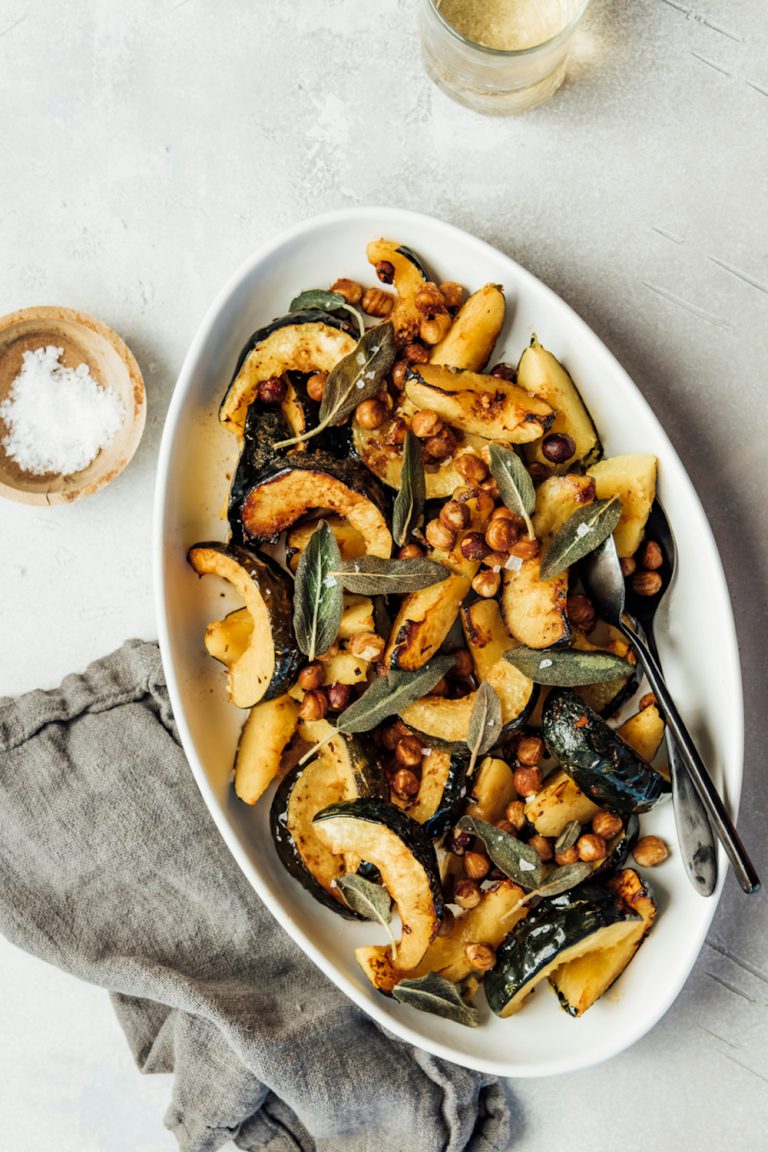 Rosemary Roasted Acorn Squash with Brown Butter and Hazelnuts
Why We Love It: This roasted acorn squash makes a simple sidekick to any tasty main. It's easy to make but doesn't skimp on any flavor. Brown butter, toasty walnuts, and fresh rosemary or sage complement the natural flavors of the squash beautifully. Plus, the oven does all the work for you. Total score.
Hero Ingredient: Using a really good butter makes all the difference. Camille recommends her favorite European premium salted butter, which you can find just about anywhere for a reasonable price. Keep your eyes peeled on your next grocery store run and prepare to reap the benefits!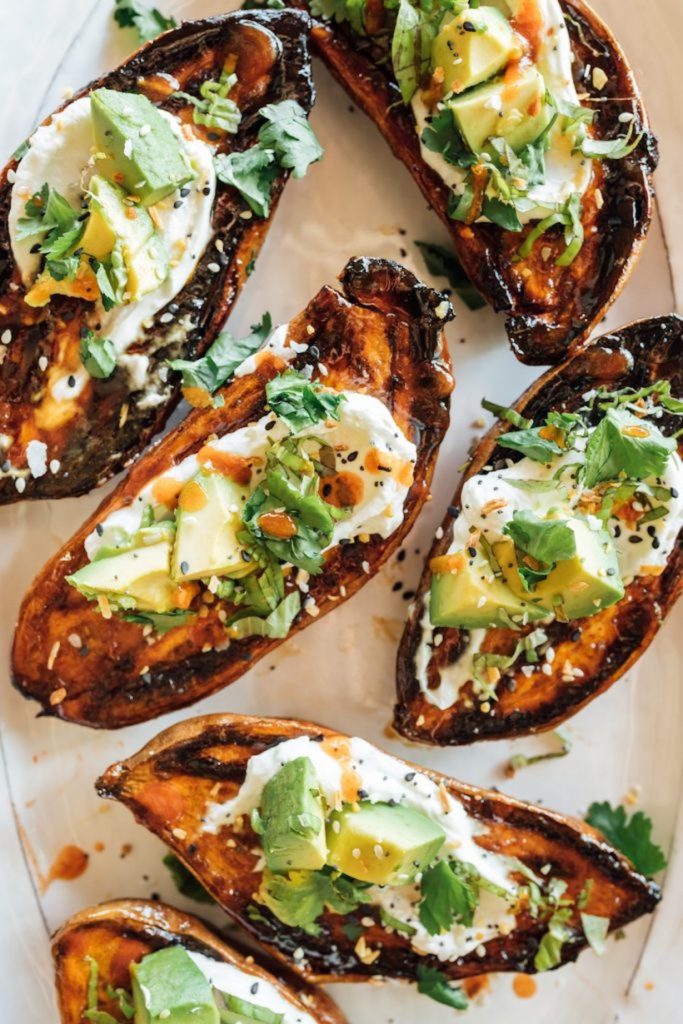 Crispy Roasted Sweet Potatoes with Yogurt, Herbs, and Everything Spice
Why We Love It: When I first bit into these potatoes, I actually gasped. I wish I was lying, but these are seriously that good. It's all about the caramelized crust that tops a pillowy underneath with creamy toppings to finish it off. We're talking avocado, Greek yogurt, a squeeze of lime juice, the list goes on…
Hero Ingredient: Be generous with the honey. And if you're feeling adventurous, try this recipe with hot honey! The slight heat combined with fluffy sweet potato is *chef's kiss*.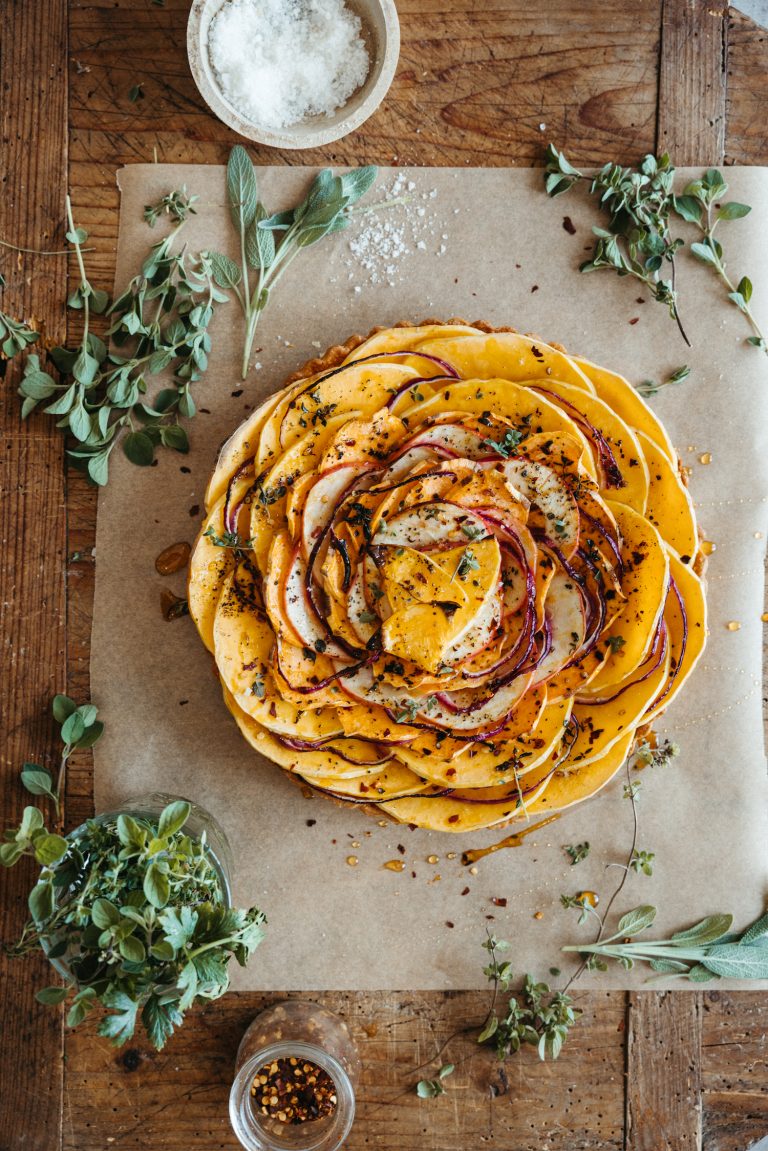 Butternut Squash and Ricotta Tart
Why We Love It: I know what you're thinking: how can a tart that gorgeous be easy? Well, prepare to be amazed. With a mandolin by your side, this beautiful centerpiece is a piece of cake. It uses a store-bought shell as the base for sliced squash, sweet potato, apple, and onion, plus a creamy ricotta filling to top it all off. Well, technically to bottom it all off, but you get the idea.
Hero Ingredient: Sprinkle a few red pepper flakes over top for just the right amount of kick.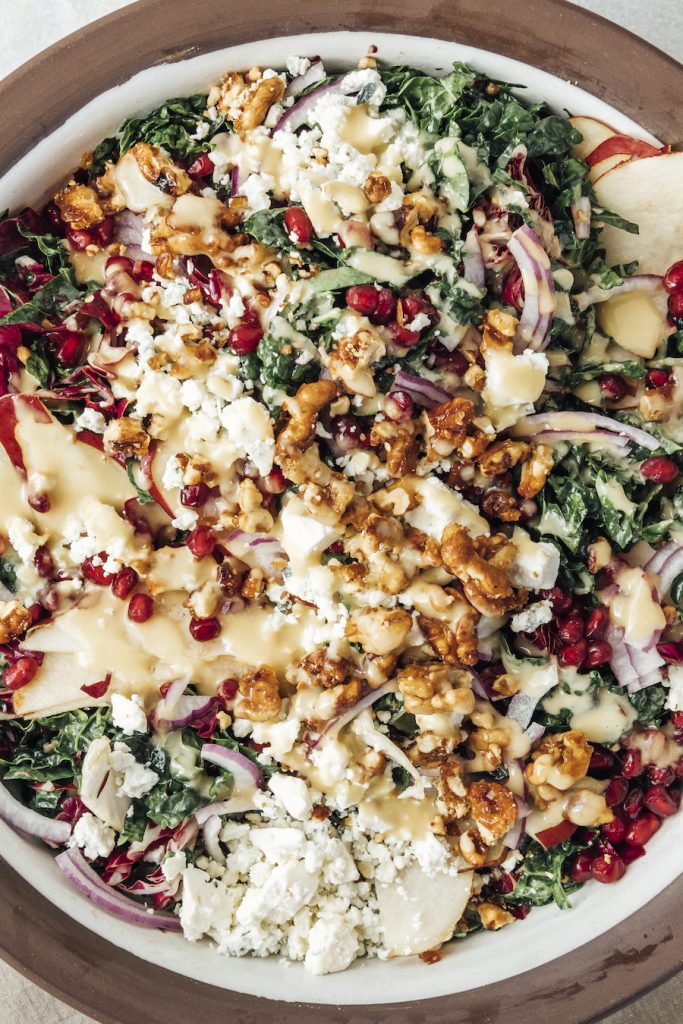 Holiday Jewels Chopped Kale Salad with Mustard-Shallot Vinaigrette
Why We Love It: There's so much goodness going on in this salad. First, since it's a chopped salad, it's perfectly bite-sized so you can get a little of everything in each forkful. It uses pear slices, pomegranate seeds, gorgonzola crumbles, and candied walnuts to strike each beautiful winter chord. To tie it all together, a succulent mustard-shallot vinaigrette lovingly coats each ingredient. It's easy, dynamic, and very, very crave-worthy. You've been warned.
Hero Ingredient: The candied walnuts. No further questions.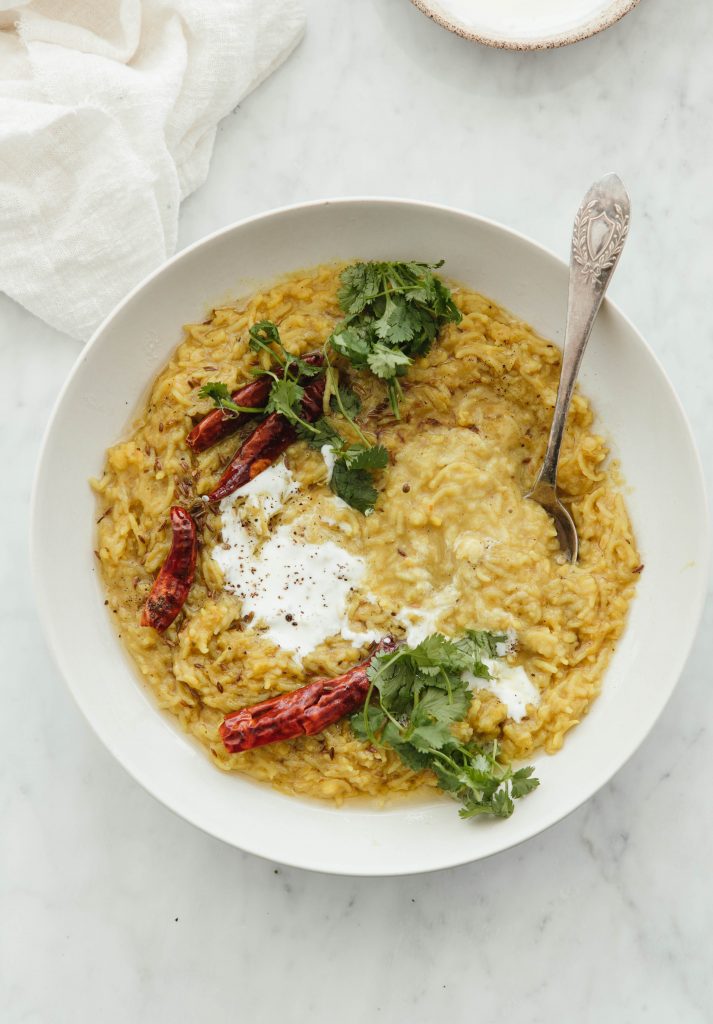 Kitchari
Why We Love It: This one-pot wonder is a gift to yourself on lazy winter nights. If you have lentils and rice in your pantry, you're only thirty minutes away from a cozy dinner that's satisfying and so easy. You can make it on the stove or in an instant pot—it's equally delicious both ways.
Hero Ingredient: Glowy turmeric gives this bowl of yum its sunshine-yellow color. Plus, it packs in a little anti-inflammatory boost that you'll feel great about from the inside out.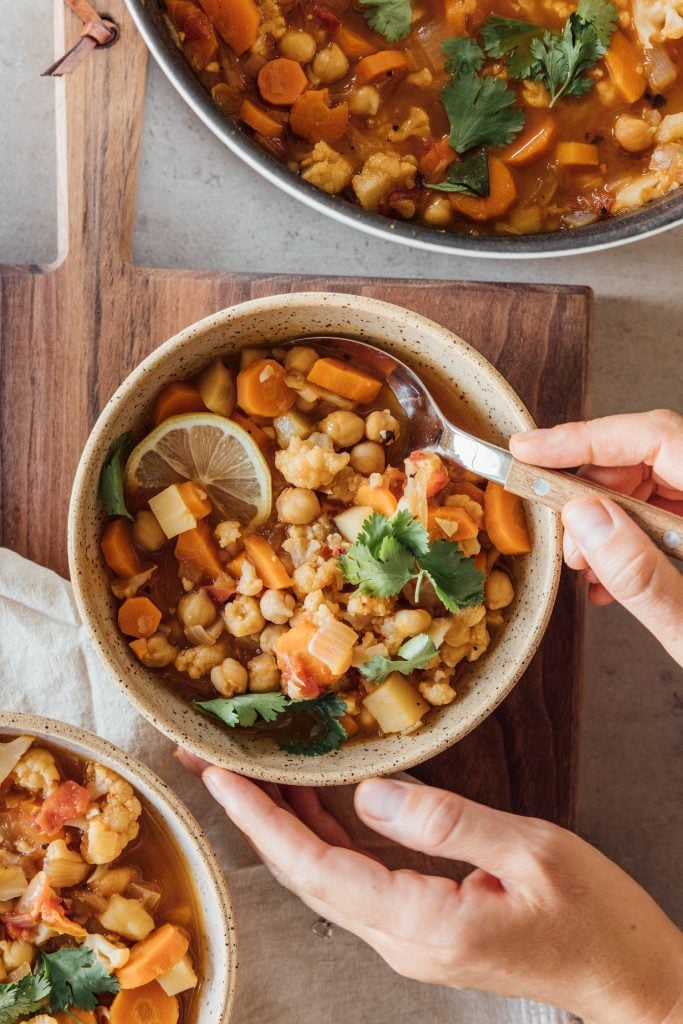 One-Pot Vegetarian Moroccan Stew
Why We Love It: To me, stew is very on-brand for winter. I can recall several cold nights growing up when my mom would serve a comforting bowl of hearty stew. And when I would come home from school to the smell of savory stew bubbling away on the stove, all was right in the world. In this recipe, that wholesomeness is celebrated in a vegetarian-friendly form that doesn't skimp on nutrition and heartiness. It's a home run.
Hero Ingredient: Chickpeas introduce a stick-to-your-ribs dose of protein and fiber that keeps this stew healthy and satisfying.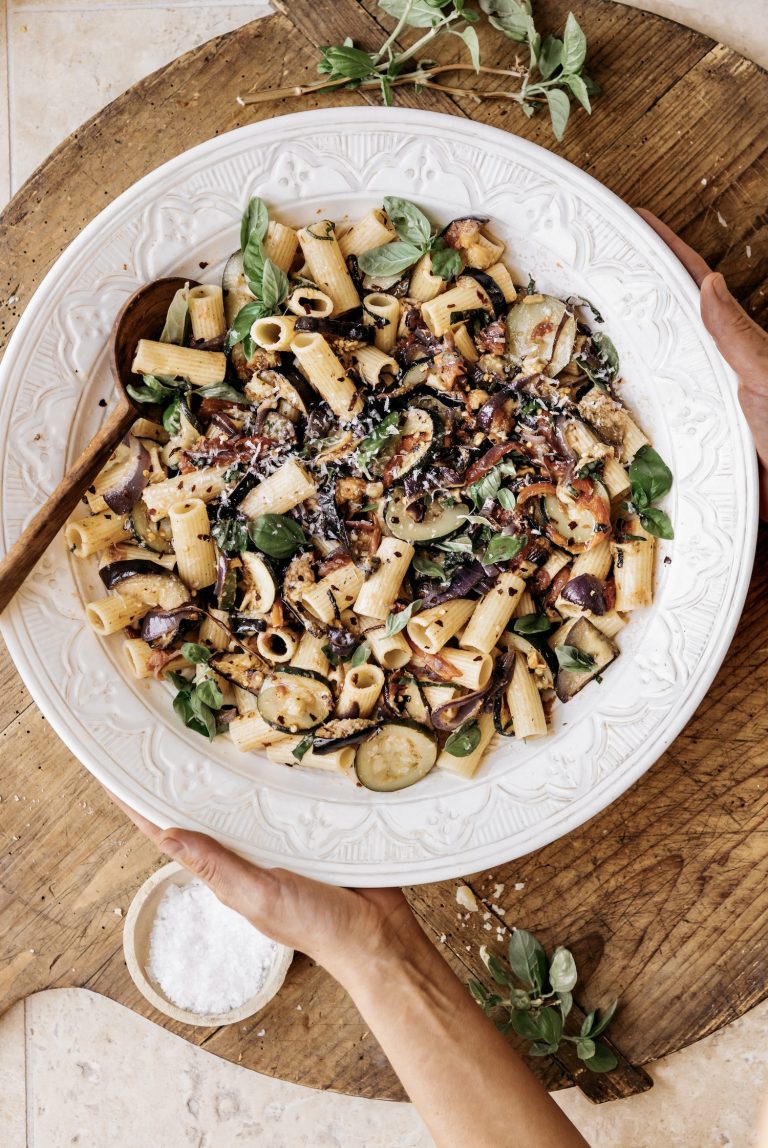 Ratatouille-Style Roasted Vegetable Pasta
Why We Love It: Eggplant, zucchini, peppers, tomatoes, and garlic roast together on a single sheet pan before entering pasta bliss. It's simple, satisfying, and ideal for busy weeknight dinners. It's also a great veggie-centric winter recipe that ensures you're nourishing your body. To top it all off, chunky rigatoni noodles provide the perfect canvas for soaking up all those roasted veggie juices.
Hero Ingredient: The finishing touches make big flavor moves here. A sprinkle of red pepper flakes, grated parm, and torn basil elevate the entire dish.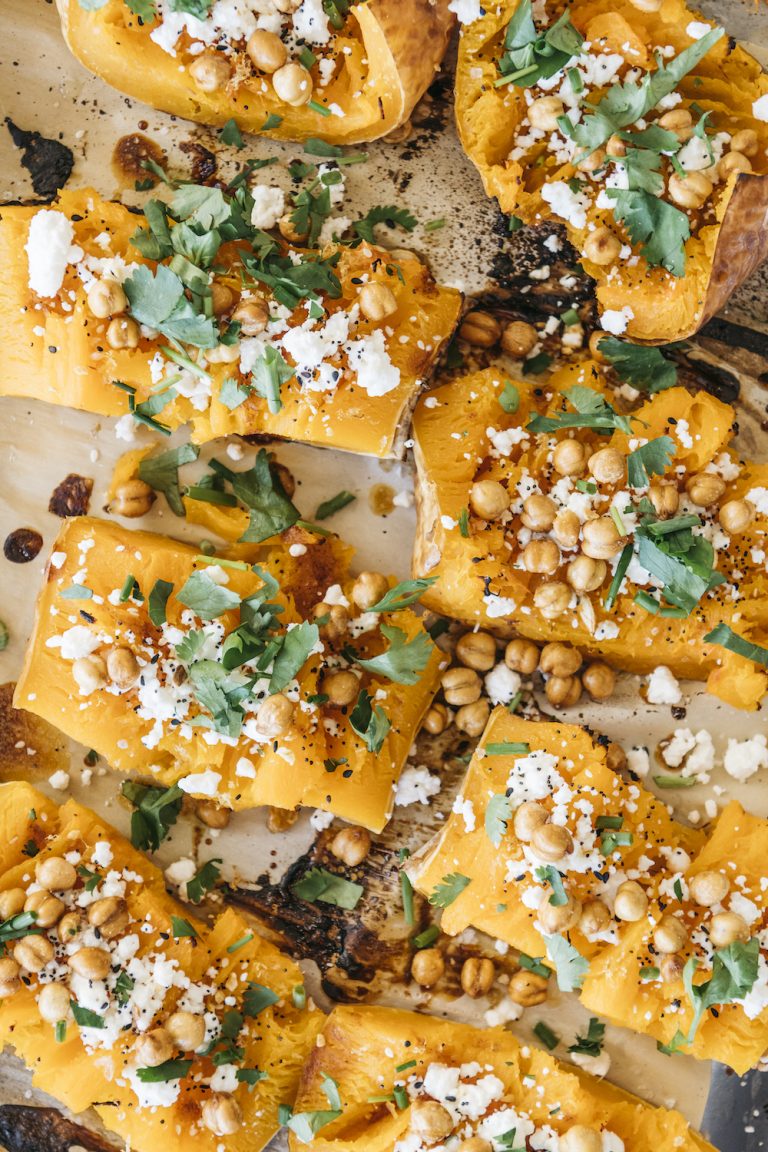 Whole Roasted Butternut Squash
Why We Love It: Easy winter recipes are all about, well, ease. And this recipe understands that principle perfectly. Butternut squash can be a little intimidating at first glance, but this recipe calls for you to simply roast it—skin, seeds, and all. Once it's soft, the squash is so much easier to slice through and deseed. From there, you'll top with crispy chickpeas, goat cheese, everything seasoning, and cilantro. Hello, easy weeknight dinner.
Hero Ingredient: Goat cheese is the creamy-on-creamy topping of our dreams.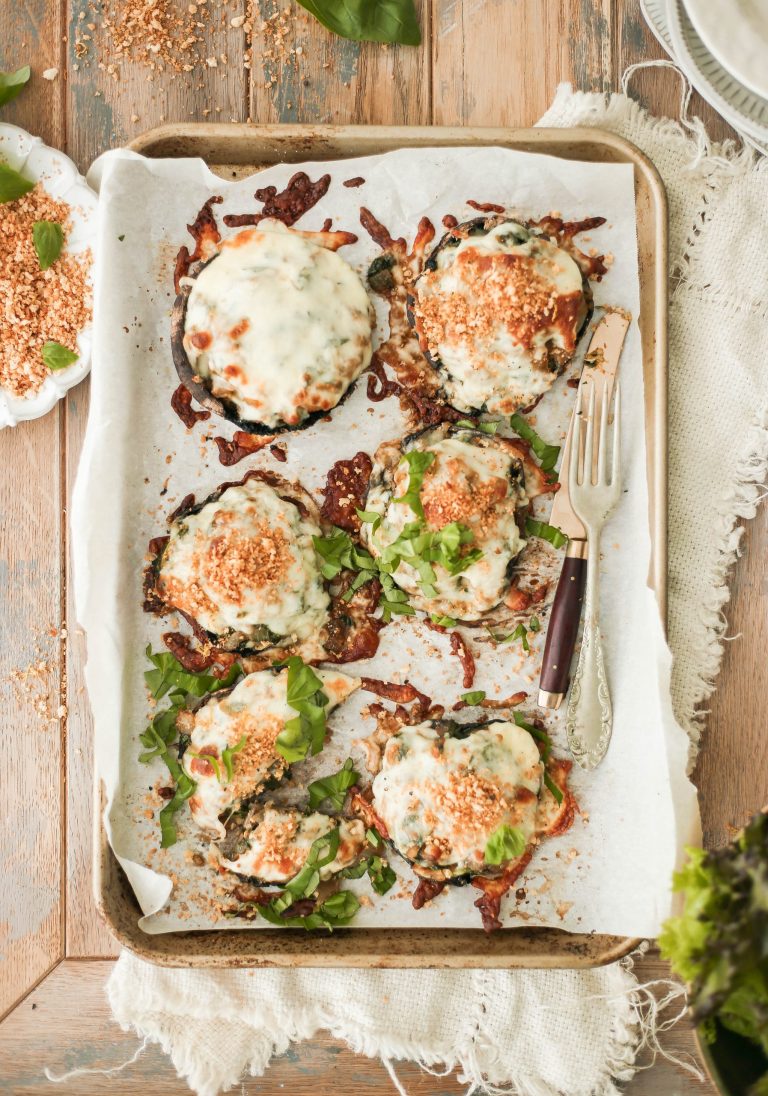 Caramelized Onion and Spinach Stuffed Portobello Mushrooms
Why We Love It: Five ingredients and about an hour are all that's standing between you and a savory plant-based dinner that's sure to satisfy. Meaty portobello mushrooms are stuffed with onion, spinach, and parmesan for a deliciously simple meal. From there, they're topped with lots of mozzarella cheese and baked until that cheese is bubbly and full of golden specks. It's a simple recipe that's easy to make and even easier to enjoy.
Hero Ingredient: The sauteéd onions are deglazed with a little balsamic or apple cider vinegar, which keeps those indulgent flavors balanced.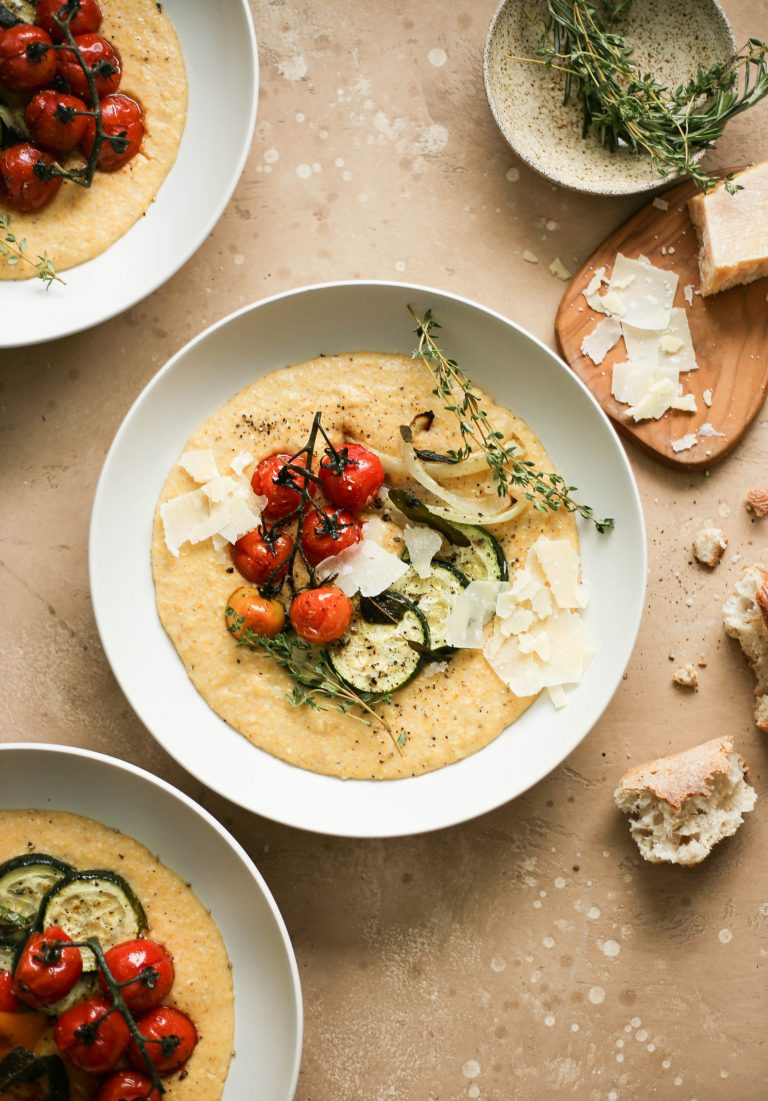 Creamy Polenta Bowls with Garlic and Mascarpone
Why We Love It: This creamy polenta recipe gives you a hug in a bowl—literally. These bowls are simple but look fancy enough to serve for a dinner party or to dress up weeknight dinners. So how do they come together? You'll start by roasting your veggies of choice in the oven, then prepare your polenta on the stove, piece the components together, and enjoy! Creamy bliss is just a polenta bowl away.
Hero Ingredient: By roasting garlic alongside the veggies, you're getting caramelized pods to squeeze straight into the polenta. It's flavor heaven.
Sweet Easy Winter Recipes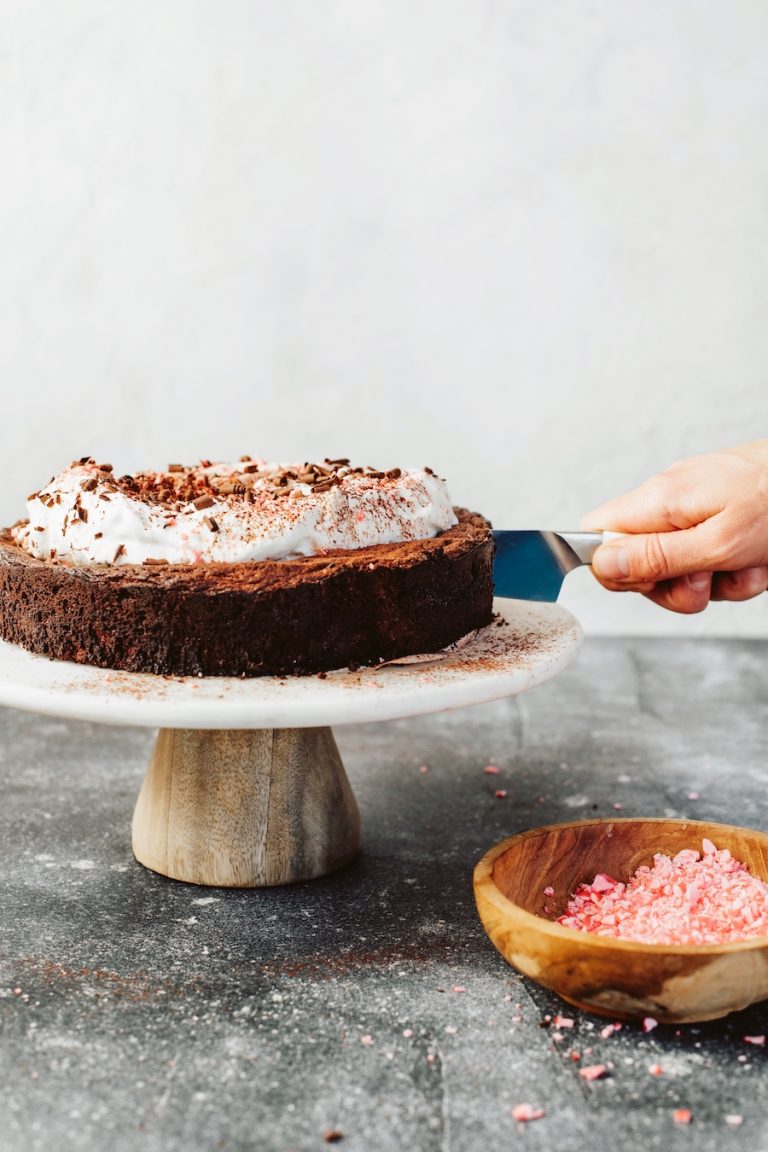 Flourless Peppermint Hot Chocolate Cake
Why We Love It: Need a gorgeous centerpiece for a winter gathering (or on-a-whim snacking)? This Flourless Peppermint Hot Chocolate Cake has you covered. At first glance, it might look intimidating, but it's simple enough for any baker. It's totally appropriate for winter as it has lots of delicious peppermint flavor throughout. Whether you're making this for an impromptu dinner party or just to spice up weeknight dinner time, you'll be glad to have this recipe in your back pocket.
Hero Ingredient: Because this cake is flourless, your gluten-free self or friends can enjoy it without hesitation.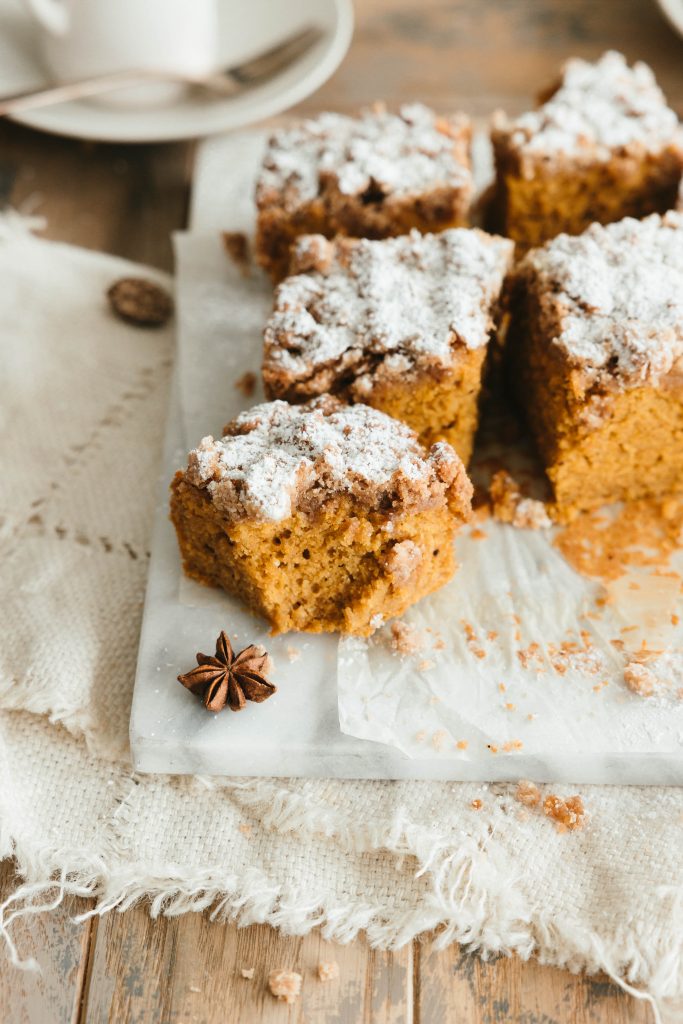 Pumpkin Snack Cake with Cinnamon Streusel
Why We Love It: In case you missed it, everyone on the Camille Styles team is a big fan of snacking cakes. Simply put, a snack cake is a cake that you can enjoy at any time of day. Need an afternoon pick-me-up? Cut yourself a slice to enjoy with a cup of coffee. Craving something sweet after dinner that won't send you into a food coma? Here's your answer. Any way you choose to enjoy it, this Pumpkin Snack Cake with Cinnamon Streusel is just the easy dessert you've been looking for.
Hero Ingredient: The cinnamon streusel really is the icing on the cake.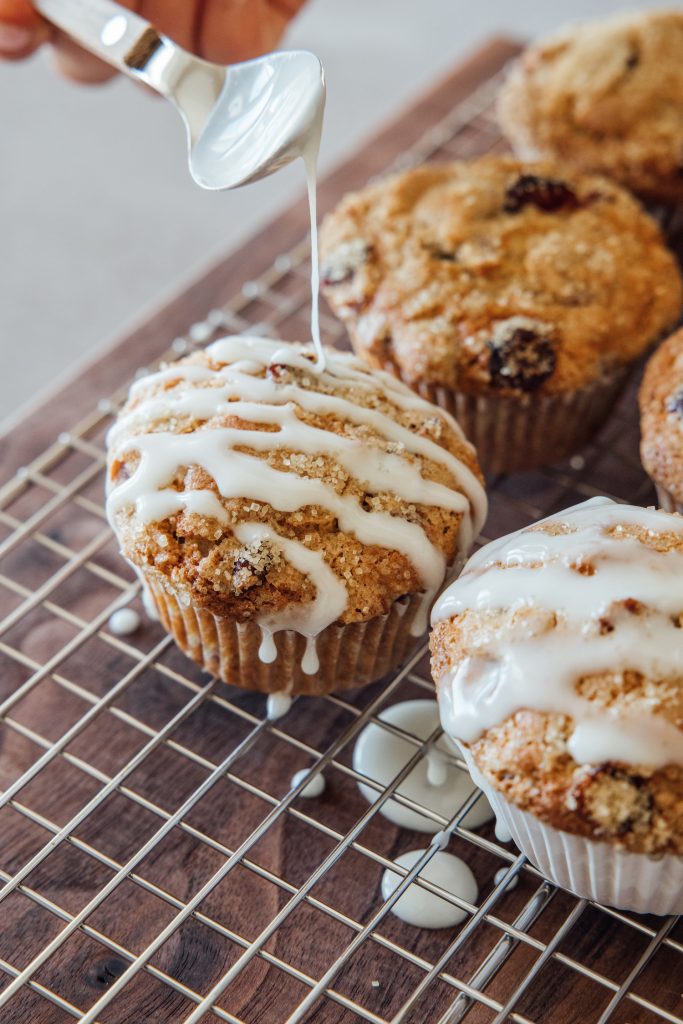 Cranberry Orange Muffins
Why We Love It: Muffins are one of life's greatest gifts. I mean, they're practically dessert that you can eat for breakfast. And these Cranberry Orange Muffins prove just that. Cranberry and orange is a staple winter flavor combo that you can't go wrong with. Together, they strike that perfect balance between tart, sweet, and a little zest that's oh-so good.
Hero Ingredient: Just look at that glaze. My mouth is watering.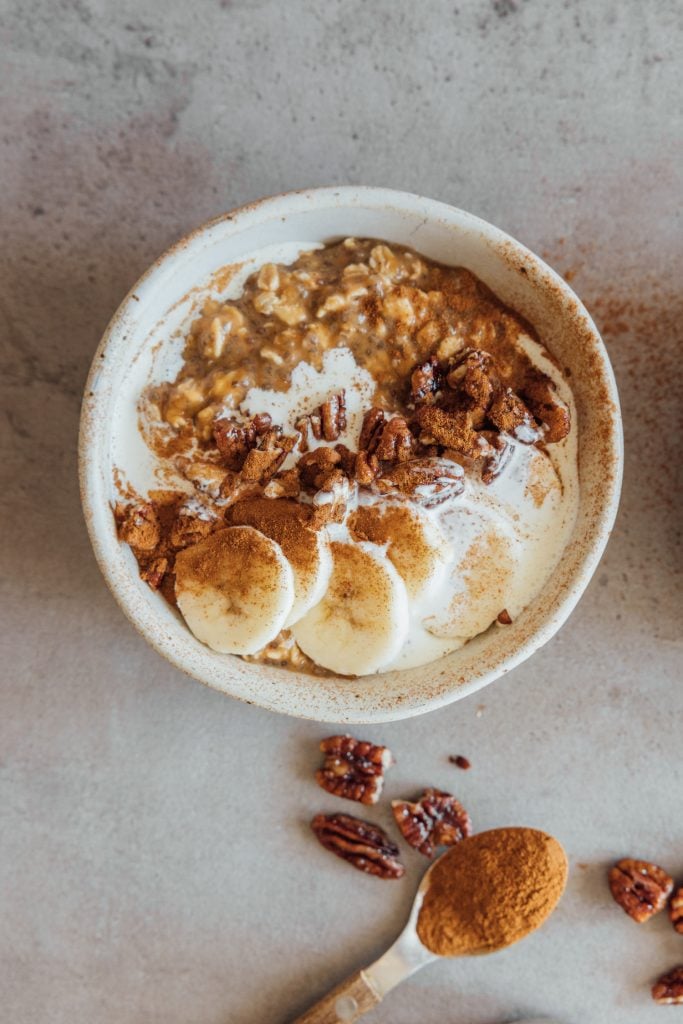 Pumpkin Overnight Oats
Why We Love It: I'm all about transitioning from pumpkin to peppermint this time of year, but it'd be wrong to kick PSL out the door right away. And although it's traditionally highlighted in fall recipes, pumpkin still deserves a spot in your repertoire of easy winter recipes. In these overnight oats, pumpkin purée, oats, milk, maple syrup, and just a handful of other pantry staples join forces to create an on-demand breakfast for even the busiest mornings.
Hero Ingredient: Hero method, here: The oats literally cook themselves. What more can we ask for from a simple, but delicious breakfast?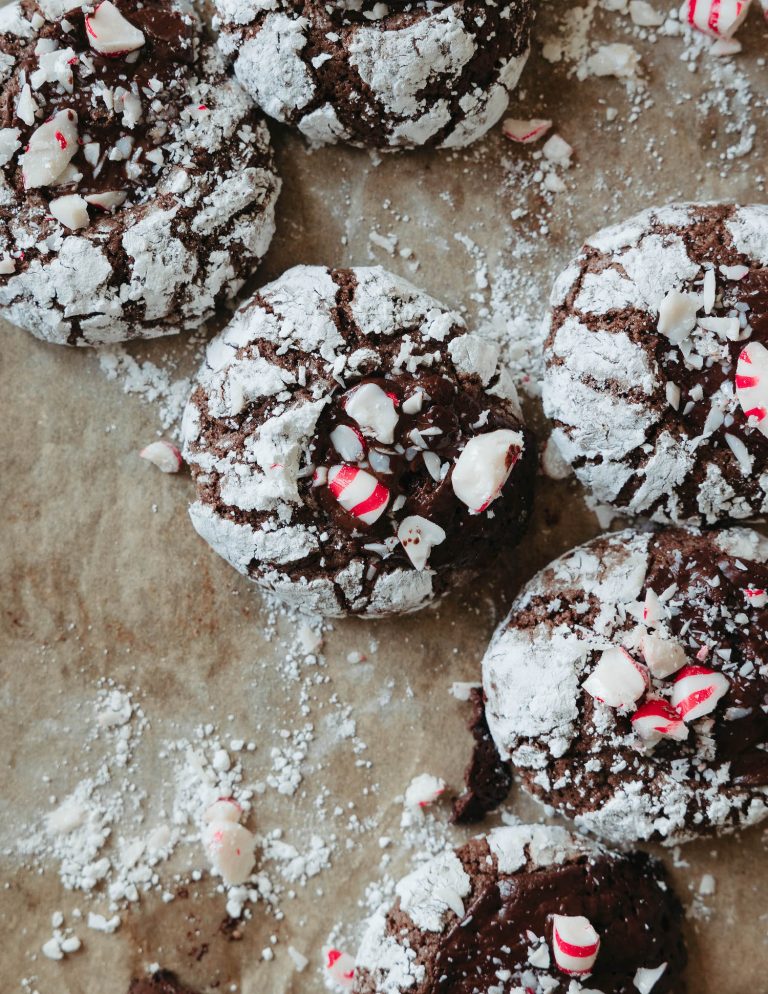 Chocolate Peppermint Snowball Cookies
Why We Love It: Fun, festive, and winter-esque, these Chocolate Peppermint Snowball Cookies are the holiday dessert you've been looking for. The molten chocolate center is simply incredible and the little bits of crushed peppermint ties the whole cookie together. To make things extra easy, you can mix up the dough at any time and freeze it until you're ready to bake.
Hero Ingredient: The gooey center, duh.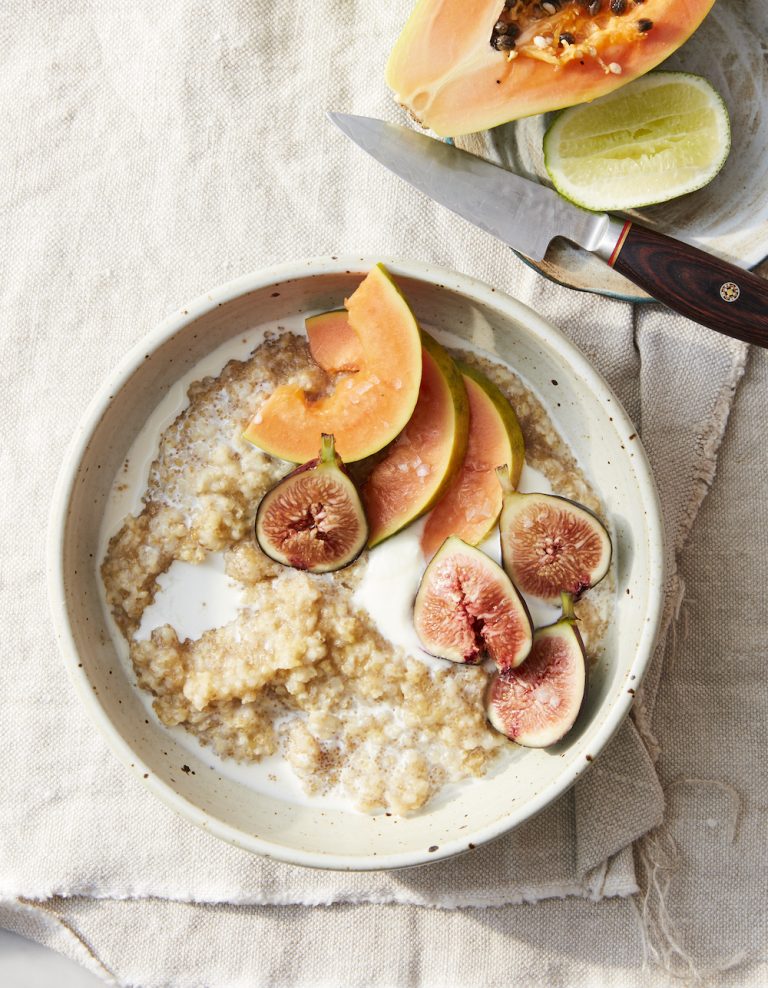 Sarah Copeland's Millet and Amaranth Porridge with Figs and Papaya
Why We Love It: During this time of year, a cold breakfast just doesn't cut it. Waking up to a comforting bowl full of nutrition is never a bad idea, which is why this porridge is perfect to add to your list of easy winter recipes. It's creamy, dreamy, and so easy to make ahead of time for a quick breakfast all week long.
Hero Ingredient: Porridge is a blank canvas for any toppings you please. Feel free to get creative and try some interesting combinations! The world is your bowl of porridge—or something like that.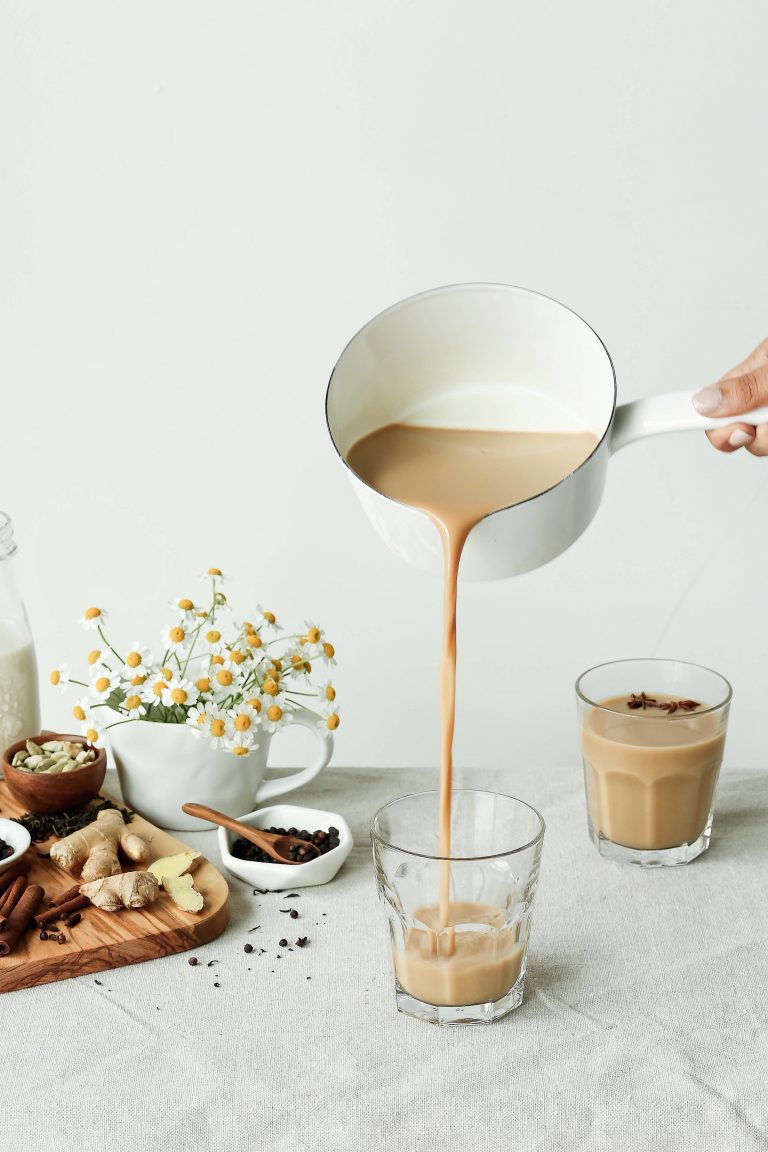 Masala Chai
Why We Love It: If you're a Starbucks chai tea girl, this recipe is for you. Well, maybe not so much a recipe, but a foolproof formula that leaves room for you to personalize to your liking. One of the best parts of this recipe is that it makes a lot (hello, easy winter recipes). You can store it in the fridge to reheat or enjoy over ice if that's your vibe. It's comforting and nostalgic for wintertime.
Hero Ingredient: It may seem cumbersome, but grinding your own spices makes all the difference. But if you don't have time, pre-ground spices work, too!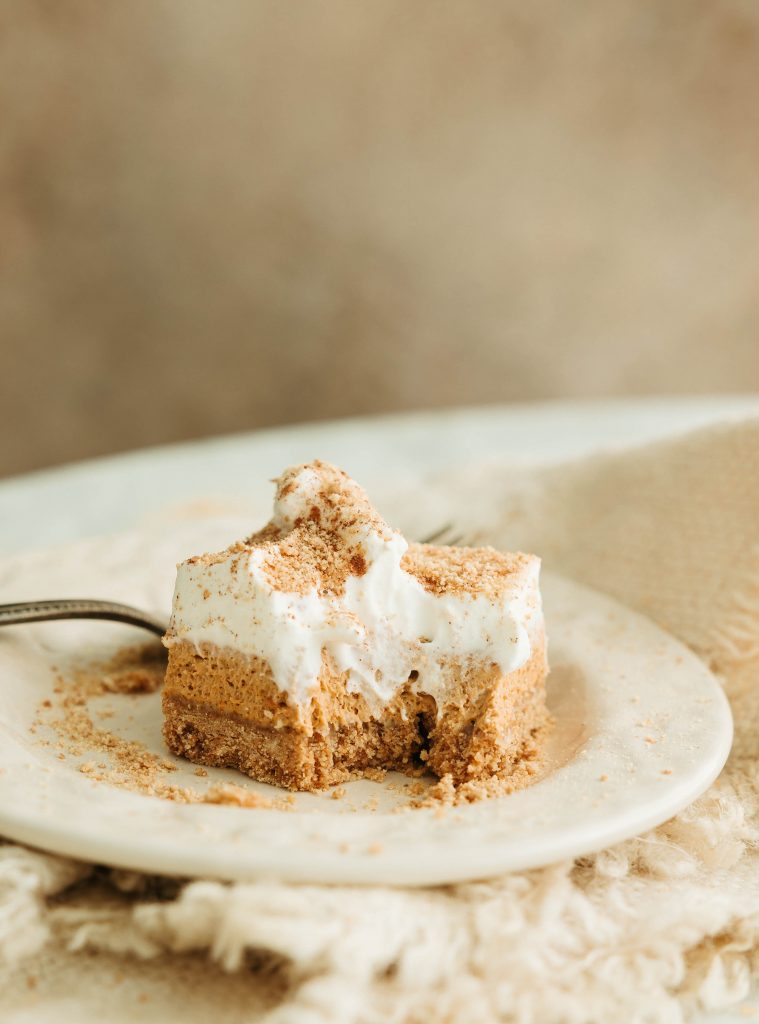 No-Bake Pumpkin Pie Bars
Why We Love It: It doesn't get much easier than no-bake recipes. These No-Bake Pumpkin Pie Bars are the easiest dessert you'll serve—and enjoy—all season long. They feature a graham cracker crust, smooth pumpkin butter, and a cream cheese-accented filling that you'll want to eat with a spoon. And if you're intimidated by the pumpkin butter, fear not! Store-bought works just as well.
Hero Ingredient: I'm a sucker for a graham cracker crust.
What are your favorite easy winter recipes? Share them with us in the comments! Seriously—we want to know!

link