Are Snibbs Shoes Comfortable? A Review of Snibbs Orbit
4 min read
As a fitness video producer, I thought I had every pair of sneakers I needed: from running to cross-training, hiking to high tops, my closet boasts more shoes than one person should ever have. But then, I tried Snibbs Orbit ($139) — sneakers that look like running shoes but are designed for people on their feet all day. After a long day wearing and walking in them, my feet feel ready for more.
Snibbs was cofounded by board-certified orthopedic surgeon Jason Snibbe, MD, and chef Daniel Shemtob, who set out to make a robust work shoe that would allow people to comfortably be on their feet for long periods and withstand the elements (such as those presented in a professional kitchen). Snibbs's first shoe, the Spacecloud ($149), is water-resistant and designed with the chef in mind. Their second, the Orbit, differs because of its more breathable knit upper (which isn't water-resistant). Both are unisex, certified slip-resistant even on floors coated with water, oil, grease, and more, and promise to help with fatigue and discomfort associated with standing or walking around all day.
As a video producer and new mom who encounters spills daily, is constantly running around, and can spend entire workdays on my feet, Snibbs Orbit proved to be a new shoe worth adding to my collection. Here are the details.
What I Like About Snibbs Orbit Sneakers
Snibbs Orbit are unlike any of my other shoes due to their unparalleled comfort — even when I'm standing or walking around for 10 to 12 hours straight on shoot days. They're sturdy and supportive while still being lightweight, thanks to what they call their Stratus-EVA midsole (the material between your foot and the floor) which is designed to provide relief and reduce strain on your feet. The toe box (the front section of the shoe) is also designed to allow your toes to spread out since your feet swell when you're standing for a while.
One of the key differences I noticed with Snibbs compared to other shoes is the ultra-stable heel designed to hug your foot. That's really how they feel: like your foot is being cushioned from every angle, and almost like they're custom-made for my feet. Sometimes my heel will move up and around my sneakers when I walk, but that doesn't happen with these shoes. I also tend to get blisters when trying new shoes but haven't had that issue with these. Really, at the end of a long day, my feet feel cared for whereas they sometimes feel destroyed in other shoes.
I also love that Snibbs Orbit are slip-on — so I can get them on or off in a flash — but have adjustable laces, so I can tighten them as needed. Bonus: They're machine-washable and air-dry quickly, and are made from nearly 100 percent recycled materials which biodegrade a lot faster than typical footwear (think: years instead of centuries), according to the brand.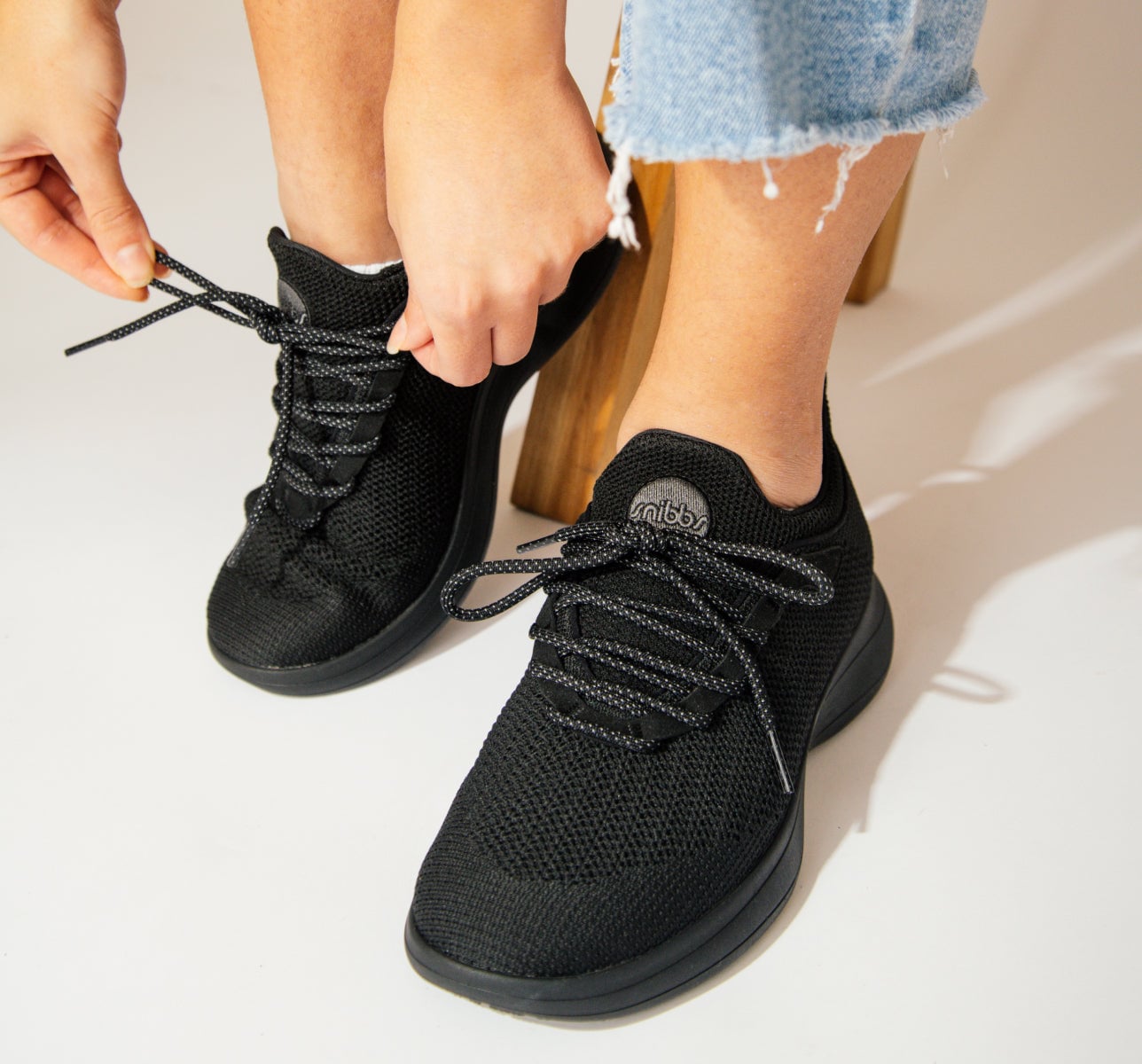 What's Worth Noting About Snibbs Orbit
Snibbs Orbit are designed for standing and walking. While they're not designed for workout out, I've used them on a few cardio and dance workouts and they still felt comfortable for me during those sessions. Right now, they come in a limited number of colors: black, blue, and green, so if you're looking for a basic white sneaker, this isn't it — or at least not yet. The brand says more colors are on the way in early 2023.
Who Are Snibbs Shoes Best For?
First and foremost, Snibbs Orbit and Spacecloud are work sneakers. They'd be a great choice for anyone who works a job on their feet all day — whether that's in a restaurant, healthcare setting, at a store, on a video set, in a factory, or as a mom. Because they're nonslip, they're especially great work sneakers for servers, nurses, cleaners, or anyone who might be in a potentially wet or slippery environment. If you're particularly worried about your feet getting wet, however, the Orbit Spacecloud might be a better bet than the Orbit, thanks to its water-resistant upper.
If you've had foot, back, hip, or leg pain from walking or standing for long periods in the past, these could be a better option than your average sneakers, since they were designed with foot health in mind. (That said, if you're experiencing any issues or pain, it's always a good idea to check in with a doctor. They can also tell you if Snibbs shoes might be a good choice for you.)
Are Snibbs Shoes Worth it?
As someone who has too many pairs of shoes, I did not want to like Snibbs, yet I love them. They've become my go-to when I know I'll be on my feet walking and standing. I've also started using my standing desk more at home since I can wear Snibbs all day without my feet hurting.
Additional Details
Colors: Nightfall Black, Maritime Blue, Sweat Pea
Shoe width: Right now, Snibbs are only available in standard width. The brand recommends customers with a wide foot order half a size up.
Sizes available: Snibbs shoes are unisex. Their size range is the equivalent of men's 3.5/women's 5 up to men's 15.
Insoles: You can remove the Snibbs insoles to add your own orthopedic or custom insoles if you'd like.
Vegan: Snibbs are made using zero animal byproducts.
Certified slip-resistant: Yes, there's actually an industry-standard way to test slip-resistance (called the Brungraber Mark II Test), and both Snibbs shoes are certified to provide superior slip resistance and grip on wet floors.
Where Are Snibbs Shoes Available?
Snibbs Orbit ($139) are available only on the brand's website.
Rating: 5
Image Sources:
Snibbs
and POPSUGAR Photography / Genevieve Farrell Roston
Product Credit: Snibbs Orbit Sneaker

link