Briefs: February 1, 2023 | Beverage-Digest
5 min read
Has US carbonated soft drink price elasticity reached an inflection point? While it's far too early to answer that question, it's worth noting that CSD volume for the two weeks ending Jan. 14 of this year declined -2.4%, almost double the decline notched during the 52-week period. That's according to Nielsen retail data published by Goldman Sachs in a Jan. 24 report (see table). The two-week volume decline came as pricing rose almost +18% in the period, compared to +15% for the 52-week period. The same trend appeared in Goldman Sachs data for the period ending Dec. 31. Some experts believe that CSD price elasticity will begin to return to a more traditional trend this year. On the flip side of the coin, the volume trend was less concerning when looking at the data on a three-year stack basis (not in table). Growth by that measure hit +5.0%, which was an acceleration from +4.4% in the four-week period and +3.3% for the 12-week period. Stacked volume growth for the 52-week period was 4.6%. Again, a few weeks is far too short a period to draw a firm conclusion. BD will keep monitoring the data.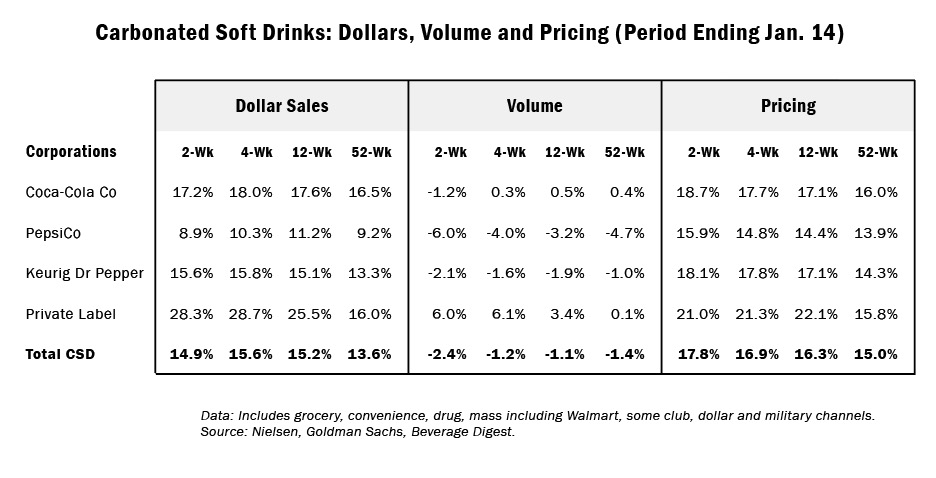 During a January 18 interview with CNBC in Davos, Switzerland, PepsiCo CEO Ramon Laguarta said "ideally" Pepsi Zero Sugar will replace Pepsi-Cola one day as the company seeks to remove sugar from 100% of its portfolio. "Long-term that's the vision," he said, without specifying the timing or details of the aspiration. That was the first time BD is aware of that a PepsiCo executive has expressed such a goal. A PepsiCo spokesman declined to elaborate on Laguarta's comments.
The FDA said last week that it is ready to work with Congress on a "new regulatory pathway" for CBD products. The agency said existing frameworks regulating supplements and food additives won't work for CBD because of safety concerns and a lack of available data to evaluate the substance's efficacy. CBD proponents, including some Congressional leaders, had urged the FDA to make rules for CBD use in supplements and food and beverage products. "Today we are announcing that after careful review, the FDA has concluded that a new regulatory pathway for CBD is needed that balances individuals' desire for access to CBD products with the regulatory oversight needed to manage risks," FDA Principal Deputy Commissioner Dr. Janet Woodcock said in a Jan. 26 tweet.
In other FDA news, the agency opened a 60-day public comment period as it prepares to research the development of a front-of-package labeling scheme. The labeling would complement the Nutrition Facts Label. "A standardized, science-based scheme could help consumers, particularly those with less nutrition knowledge, quickly and easily identify foods that are part of a healthy eating pattern," the agency wrote in a Jan. 25 notice of the comment period. "A variety of front-of-package labeling systems have been adopted in countries world-wide." Beverage companies including Coca-Cola, PepsiCo, and Keurig Dr Pepper already include front-of-pack calorie labeling on products in the US.
The US Department of Agriculture has issued new rules intended to make it more difficult for food products to claim they are organic. Companies have a year to comply with the rules once they take effect in March.
A state environmental report to Vermont legislators last month suggested that extended producer responsibility (EPR) laws for packaging could help meet recycling goals and reduce processing costs. EPR regulations in other states require manufacturers to help pay to collect plastic waste for processing into reusable materials. The report also said that Vermont's Bottle Bill redemption centers are "struggling to sort more than 100 beverage brands," concluding that the Bottle Bill shouldn't be expanded until it is modernized. Modernization could include syncing Bottle Bill recycling with traditional recycling programs and possibly marrying the Bottle Bill scheme with a new EPR program, according to the report.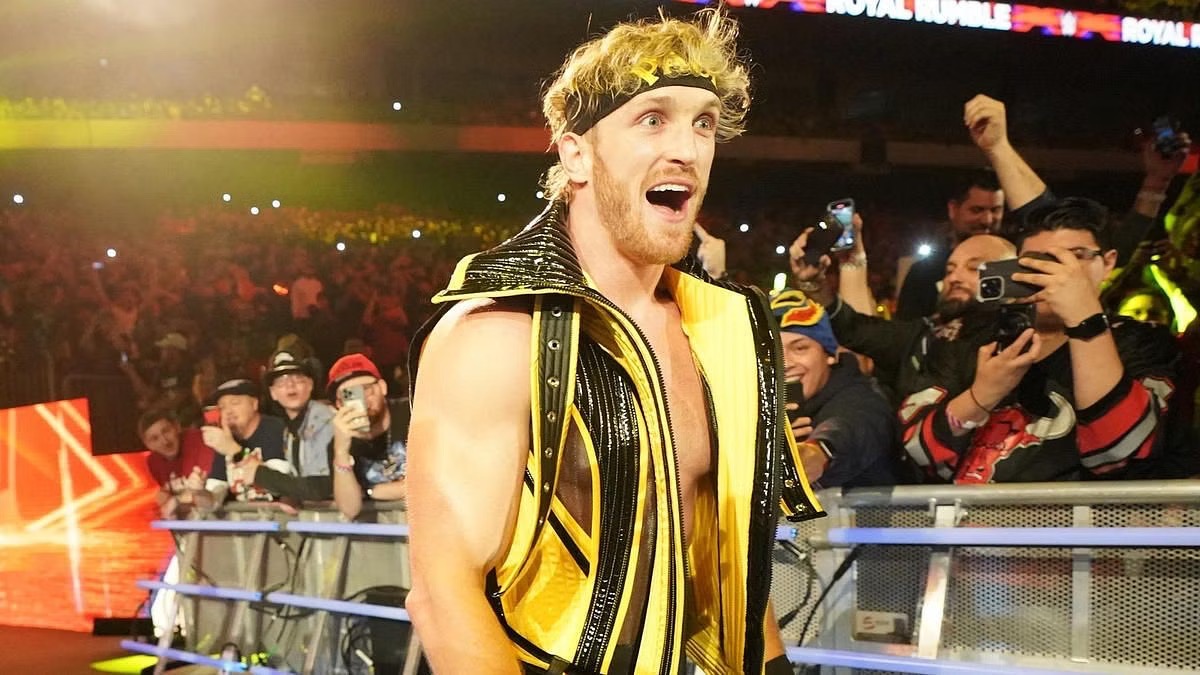 Boxer and YouTube star Logan Paul said in a recent post that his sports drink brand Prime, co-founded a year ago with fellow boxer and social media influencer KSI, has reached $250 million in retail sales and 100 million bottles sold in its debut year. Paul also announced a coming "Super Bowl commercial" without offering details. Separately, the brand launched a new energy drink last month in GNC stores.
Bang Energy, having filed for bankruptcy protection last year, has now dropped a 2019 trade dress lawsuit against Monster Beverage over its Reign product. Monster in turn has dropped counterclaims in the case.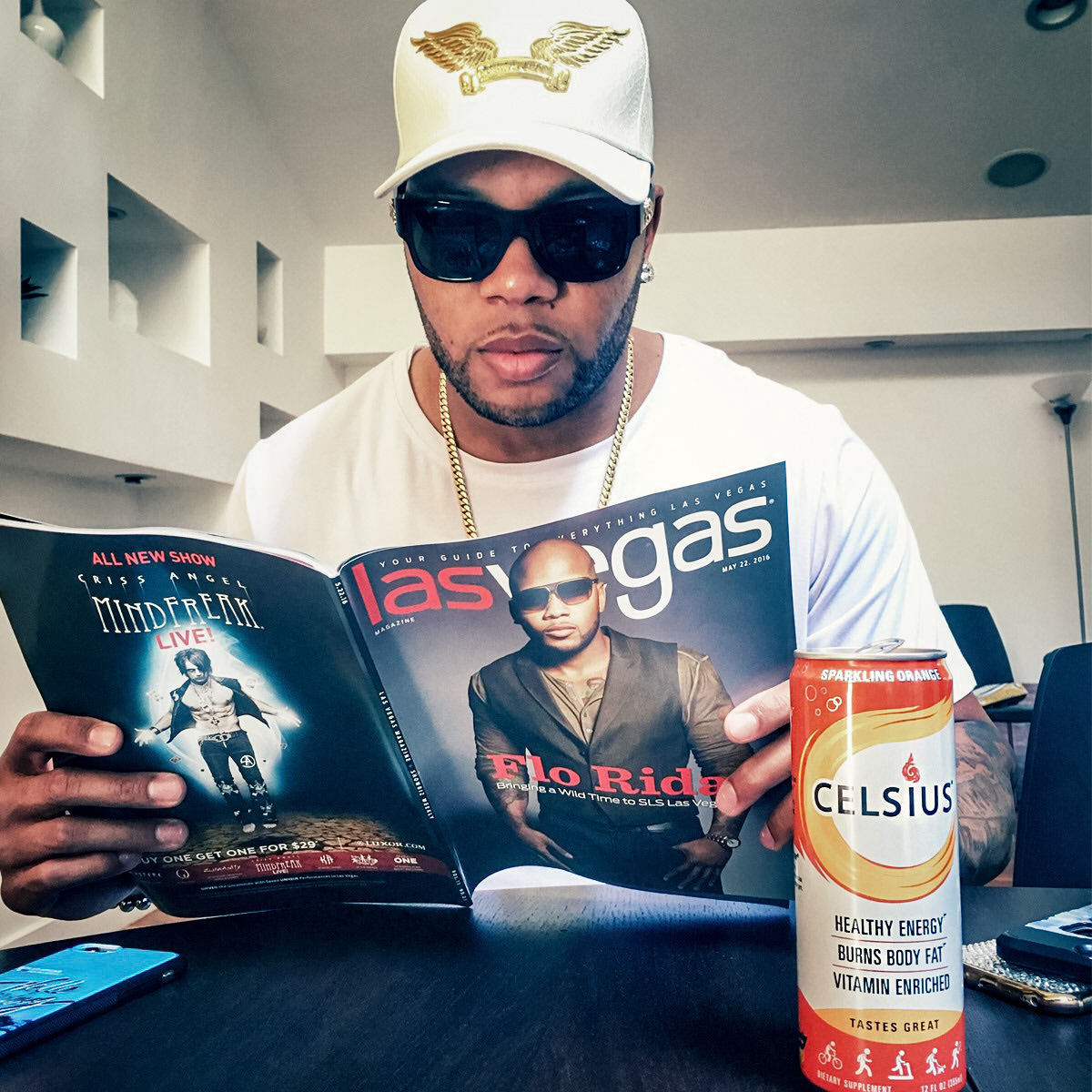 Rapper Flo Rida won an $82.6 million verdict against Celsius after a jury agreed that the energy drink company breached a 2014 endorsement deal that ended in 2018 by not paying stock and royalties owed. The jury also said Celsius fraudulently hid information from the artist. Celsius will appeal the ruling, according to media reports. PepsiCo has since taken on distribution of Celsius in a deal forged last year.
Arizona Beverage has raised the price of its 20-oz PET bottled teas to $1.25 from $1.00 in some Northeast markets to help keep the brand's 23-oz can at 99 cents, CEO Don Vultaggio told Yahoo News.
Noteworthy Product Launches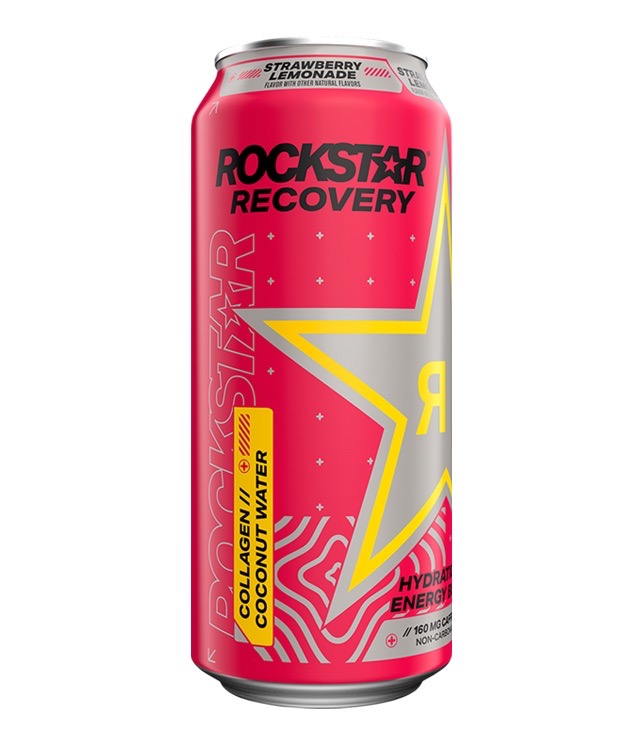 PepsiCo's Rockstar Energy has added a Strawberry Lemonade flavor to its coconut water-based Recovery line.
Coca-Cola's Simply brand has launched a line of juice mixers for alcoholic and non-alcoholic cocktails called Simply Mixology. Flavors are Lime Margarita, Peach Sour, and Strawberry Guava Mojito.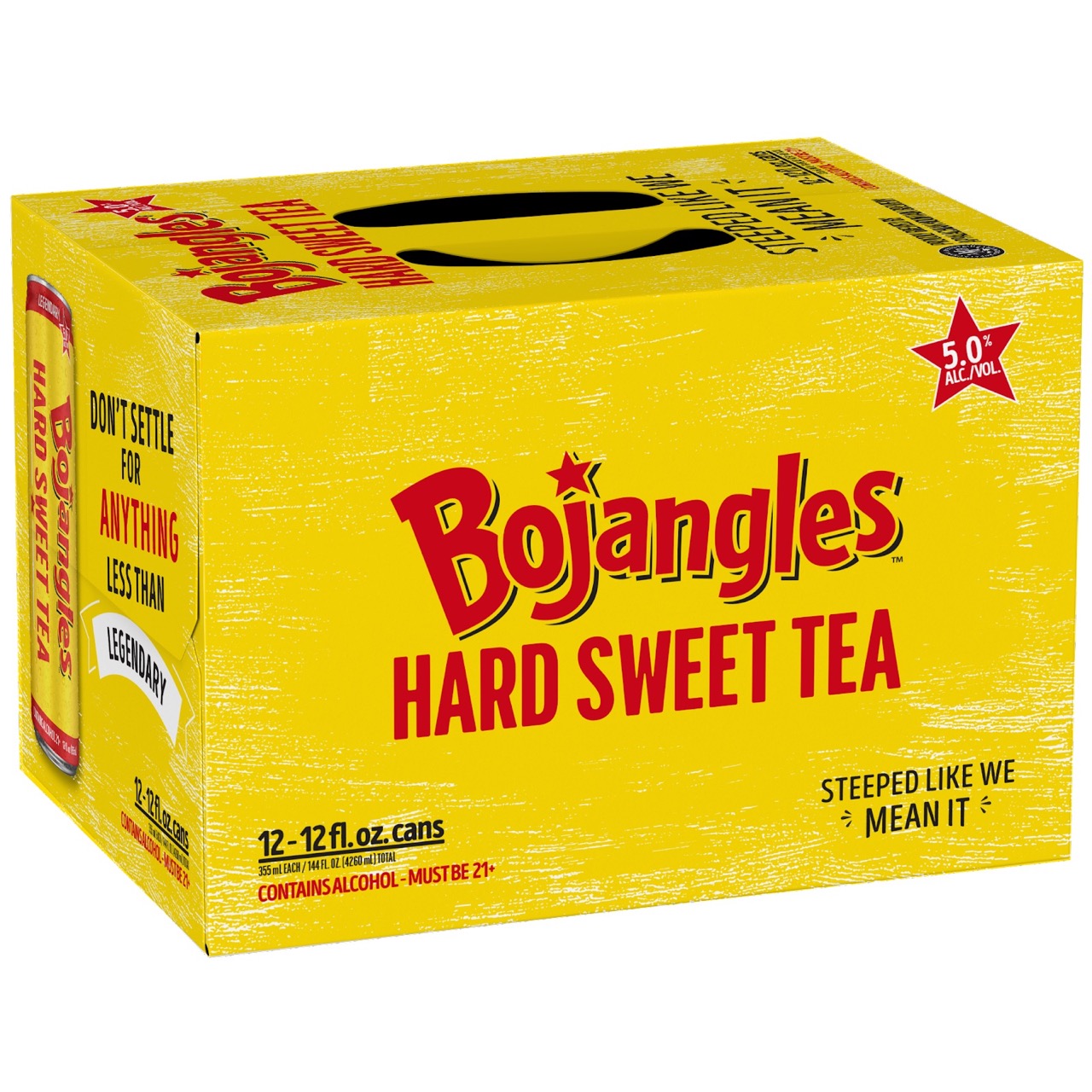 Fast-food chicken chain Bojangles and Appalachian Mountain Brewery will launch a Bojangles Hard Sweet Tea in March.
Splash Beverage announced the March launch of an energy drink under its Tapout Hydration brand. Former NFL star Drew Brees is a brand ambassador for Tapout.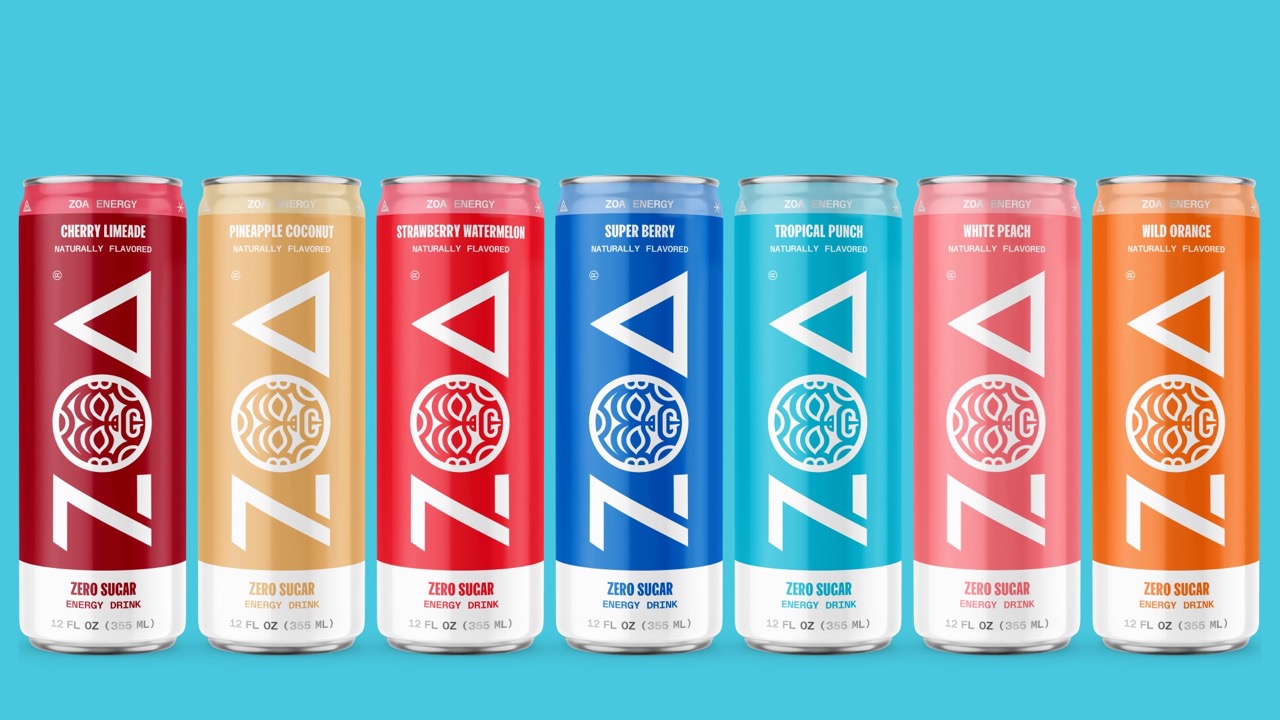 Zoa, the energy drink distributed by minority investor Molson Coors Beverage and backed by megastar actor Dwayne "The Rock" Johnson, has rebranded the product to widen the brand's appeal, the companies said. The work includes a brighter package design and a new 12-oz slim can, instead of the previous jet black 16-oz cans. The brand also will add flavors Cherry Limeade and Strawberry Watermelon. The rebrand comes as fast-growing energy competitor Celsius, also in brightly-colored 12-oz slim cans, has signed on with PepsiCo for distribution and has succeeded in appealing to women.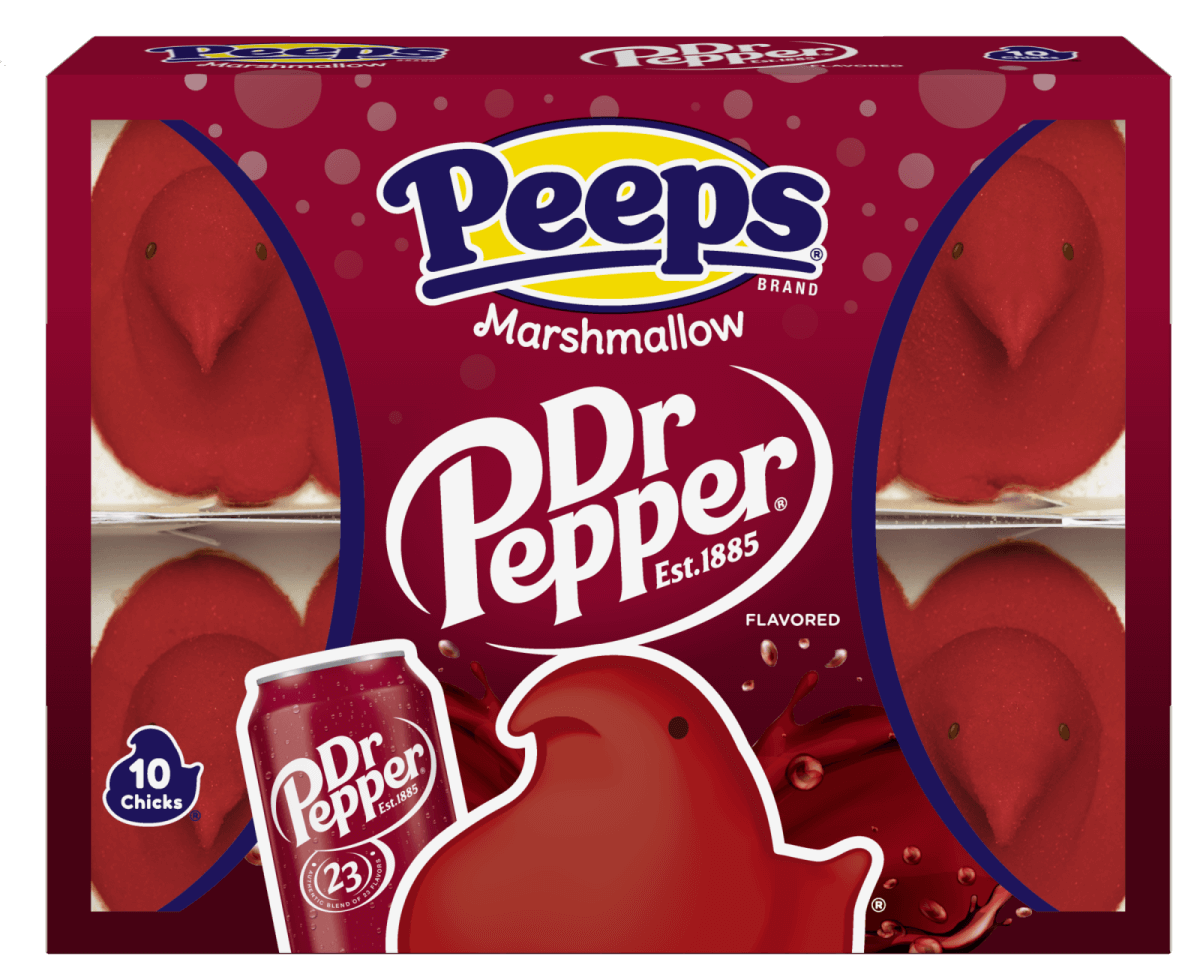 Fun Food Watch: Peeps has added a Dr Pepper flavor to its line of marshmallow confections. And PepsiCo has launched a Mtn Dew Baja Blast flavored hot sauce.
link