Do You Really Know How Strong Your Cocktail Is?
4 min read
How much alcohol you can drink can certainly play a role in how much you actually have. And just because you throw back a lot of beer, wine, or liquor, does not mean you should. (In fact, the CDC firmly advises against this.)
The strength of the alcohol per beverage can affect how much you are able to consume, and this can vary based on drink type, portion size, and the alcohol by volume (ABV) content. So, how can you effectively monitor the strength of your alcoholic drinks relative to the amount you imbibe?
Measuring the strength of your alcohol
Just as you would check the nutrition information on your food to know what you're putting in your body, when it comes to beer, wine, and liquor-based cocktails, the best way to ensure you are drinking responsibly is to consider the ABV value notated on the bottle before mixing your next drink. This percentage measures the concentration of alcohol within a bottle of liquor, beer, or wine, thus lets you know how much alcohol you're consuming in a given drink.
According to the Dietary Guidelines for Americans, 2020–2025, one drink is defined as:
12 fluid ounces of beer, which is about 5% ABV
5 fluid ounces of wine, which is about 12% ABV
1.5 fluid ounces of 80-proof distilled spirits such as rum or vodka, which is about 40% ABV
Some of the craft beers or wines can have higher ABV percentages than others. So a single serving size of 12 fluid ounces of a craft beer or 5 fluid ounces of wine with a greater ABV percentage could be stronger than you realize, equalling more than one serving. For example, Sam Adams sells Wicked Hazy which is 6.8% ABV. If you consume one 12 fluid ounce can, this will be equivalent to 1.4 drinks.
What about cocktails?
Keeping both your portion sizes and the ABV percentages in check can help monitor your alcohol strength in general. Though it's easy to check the side of your beer, knowing how much booze is in your handcrafted cocktail while out and about can get a little more tricky. However, when you're hosting a cocktail event, you have the power to put together a bar list that—in addition to being delicious—keeps your guests' well being at top of mind.
With that in mind, below are 10 cocktail suggestions to help you regulate the strength of your alcoholic bevies while also turning up the fun! And for your guests who are totally abstaining from all alcohol, be sure to also check out 15 Best Non-Alcoholic Drinks That Are Actually Worth Buying.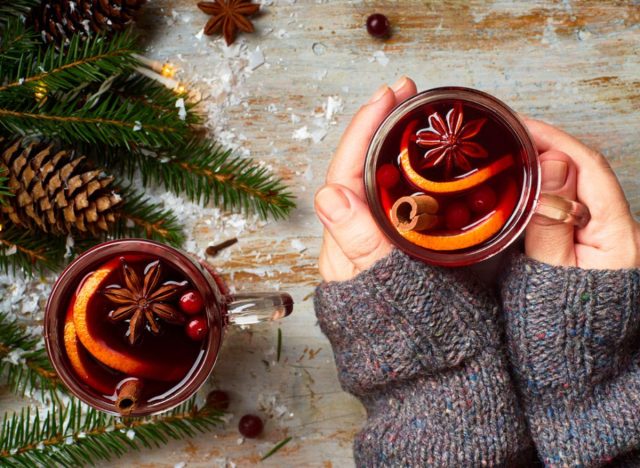 The warmth of wine cooked with delicious spices is a favorite during the cold winter. But choose your wine carefully and make sure the bottle contains 12% ABV, or that glass of mulled wine will be stronger than you think!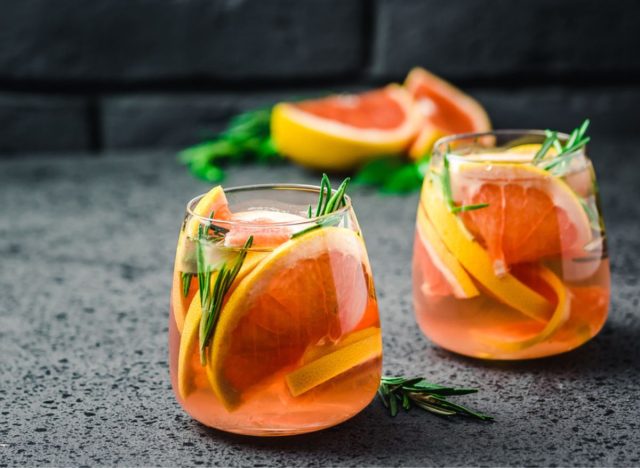 This simple cocktail is made by combining a small amount of wine with seltzer. Because most recipes suggest using a 1:3 ratio of seltzer to wine, and typically one drink includes less than 5 fluid ounces of wine. Therefore, this is a good beverage option for your wines that have higher ABV percentages.
Some margaritas are just huge in volume, making them much stronger than is necessary (and many more calories!) However, this Sweet and Smoky Fresh Ink Smoked Margarita recipe uses 1.5 fluid ounces of Patrón Silver, which is 40% ABV, making it an appropriate portion per the ABV percentage.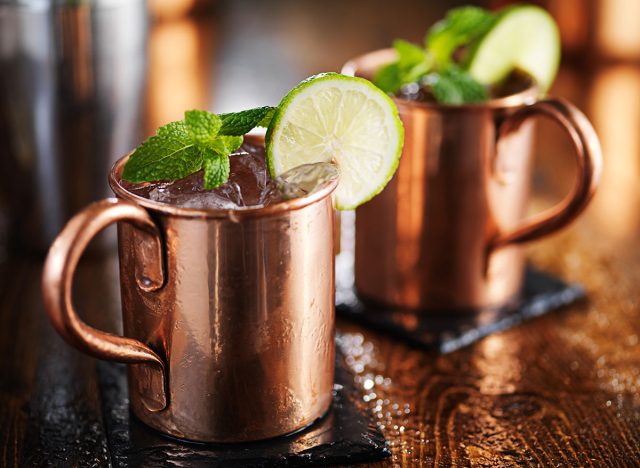 Traditionally, this favorite sipper is made by combining vodka, ginger beer, and lime wedges. Standard vodka is 40% ABV.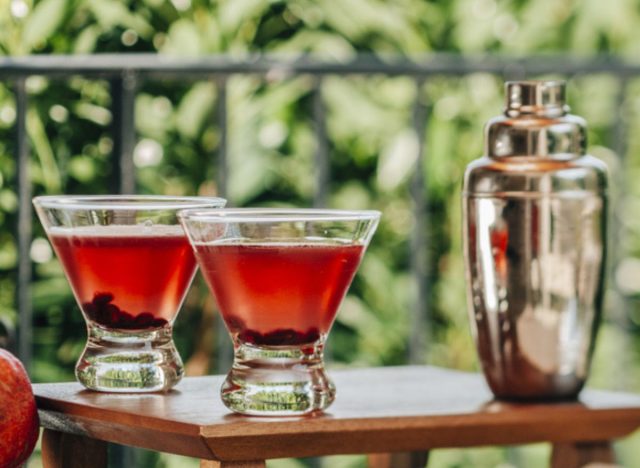 This holiday cocktail has 1.5 fluid ounces of tequila, which is 40% ABV and meets the one-drink equivalent. It also has one ounce of champagne which is about 12% ABV—but only uses one-fifth of a drink equivalent. If you're going to have a touch stronger drink, this would be the cocktail to do it with. The entire cocktail contains 1.2 drink equivalents of alcohol.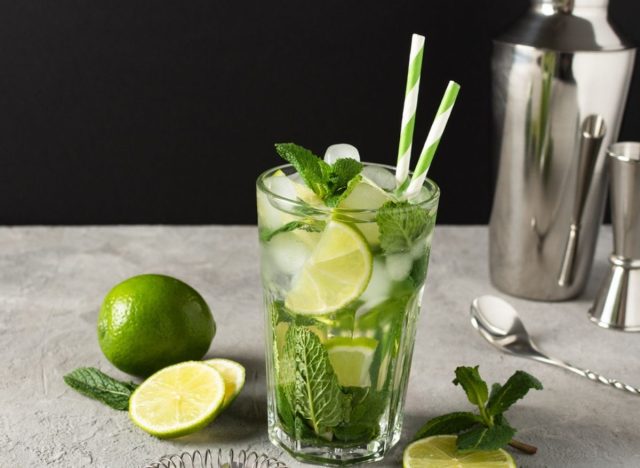 This refreshing rum-based sipper is made with rum, lime juice, simple syrup, and mint leaves. Rum is 40% ABV, so opt for 1.5 fluid ounces for a one-drink equivalent cocktail.6254a4d1642c605c54bf1cab17d50f1e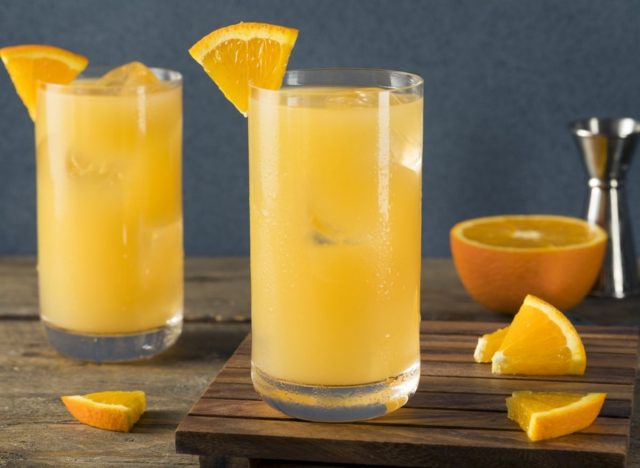 This mixture of vodka and orange juice is easy to make. Use 1.5 fluid ounces of vodka, which is 40% ABV, and fill it up with OJ to make a simple cocktail that is one-drink equivalent.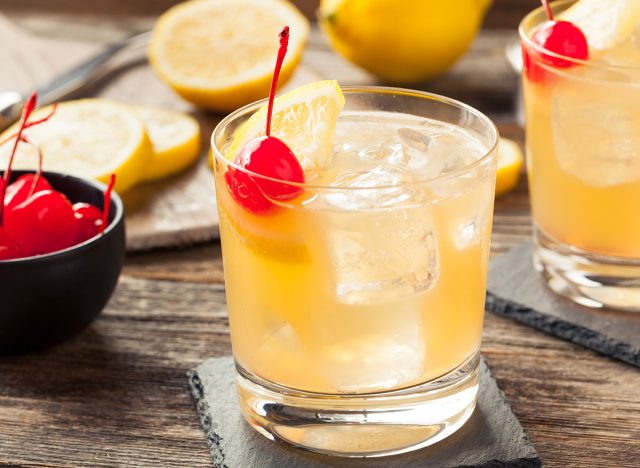 This favorite drink is made with whiskey, lemon juice, and sugar. You can find plenty of brands of whiskey that are 40% ABV. Just limit the pour of whiskey to 1.5 fluid ounces.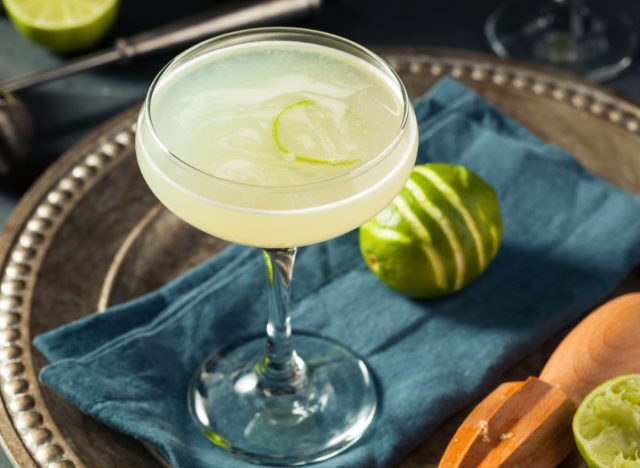 This classic cocktail is made with gin or vodka, simple syrup ,and lime juice. Both gin and vodka are 40% ABV. So in this case, it's the portion that should be limited to 1.5 fluid ounces to keep this cocktail to the one-drink equivalent.
This Sunday brunch favorite is made with an even amount of champagne and orange juice. Using a traditional champagne flute will help limit portions making this cocktail less than the one-drink equivalent of alcohol.
Toby Amidor, MS, RD, CDN
Toby Amidor is an award winning dietitian and Wall Street Journal best-selling cookbook author who believes healthy and wholesome can also be appetizing and delicious. Read more about Toby
link