PepsiCo Misrepresents that IZZE Sparkling Juices Have No Preservatives, Class Action Says
2 min read
A proposed class action alleges PepsiCo misrepresents that its IZZE sparkling juices do not contain preservatives.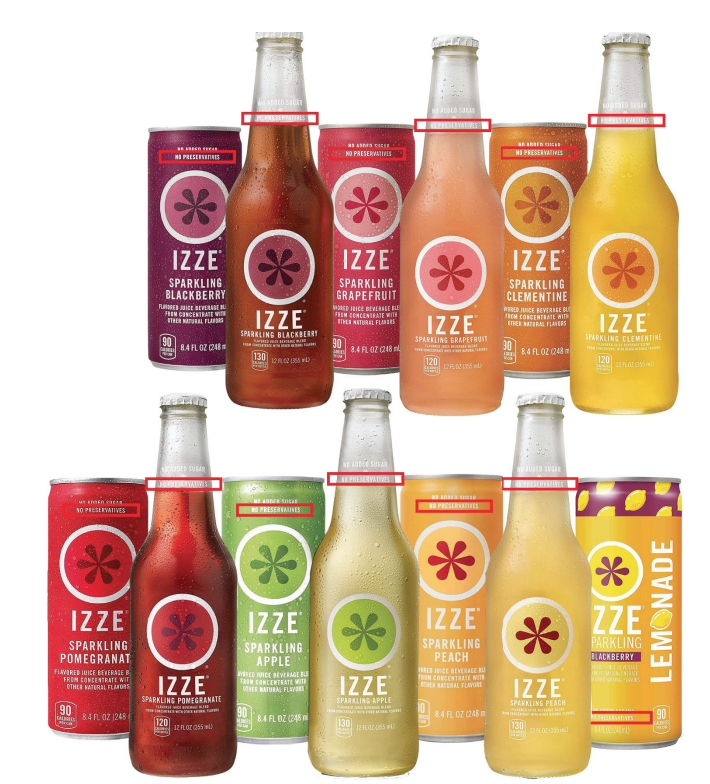 The 18-page suit out of New York says that despite the "no preservatives" claim prominently displayed on the label of IZZE juices, the products, unbeknownst to consumers, contain citric acid and/or ascorbic acid, two well-known preservatives used in food items. 
According to the complaint, citric acid works as a preservative by serving as an "acidulant and as an indirect antioxidant." More specifically, citric acid "infiltrates and weakens or kills microorganisms," lowering a juice's pH level and thereby "combating and sequestering" microorganisms, the case states. Per the suit, citric acid performs these functions regardless of whether it's added to a product as a flavoring agent. 
Want to stay in the loop on class actions that matter to you? Sign up for ClassAction.org's free weekly newsletter here. 
The filing contends that the inclusion of citric acid in IZZE beverages renders PepsiCo and co-defendant PAI Partners' "no preservatives" claim false and misleading, even if the companies' "subjective intention" was to add citric acid for flavoring purposes. 
Like citric acid, ascorbic acid functions as an antioxidant that helps prevent microbial growth and oxidation in foods, preserving their color and freshness, the lawsuit continues. Although the defendants identify ascorbic acid as a source of vitamin C, they do so within the drinks' ingredients list rather than on their nutrition facts panel, in violation of FDA regulations, the suit claims. 
The case alleges that by representing that IZZE sparkling juices have no preservatives, PepsiCo and PAI Partners, with whom PepsiCo sells IZZE as a joint venture, seek to capitalize on consumers' preference for less-processed foods. 
According to the complaint, the FDA defines a chemical preservative as "any chemical that, when added to food, tends to prevent or retard deterioration thereof, but does not include common salt, sugars, vinegars, spices, or oils extracted from spices, substances added to food by direct exposure thereof to wood smoke, or chemicals applied for their insecticidal or herbicidal properties." The FDA also classifies and identifies citric and ascorbic acid as preservatives in its Overview of Food Ingredients, Additives, and Colors, the case states.
The lawsuit looks to cover all consumers in the United States who, during the maximum period of time allowed by law, bought IZZE sparkling juice primarily for personal, family or household use, and not for resale. 
The IZZE products mentioned in the complaint include cans and bottles of the sparkling blackberry, sparkling grapefruit, sparkling clementine, sparkling pomegranate, sparkling apple, sparkling peach and sparkling blackberry lemonade varieties. 
Get class action lawsuit news sent to your inbox – sign up for ClassAction.org's free weekly newsletter here.

link