Tim Hortons Quenchers Lineup 2023: Price, Calories
2 min read
Here's a look at the current lineup of Tim Hortons Quenchers in terms of pricing and calories.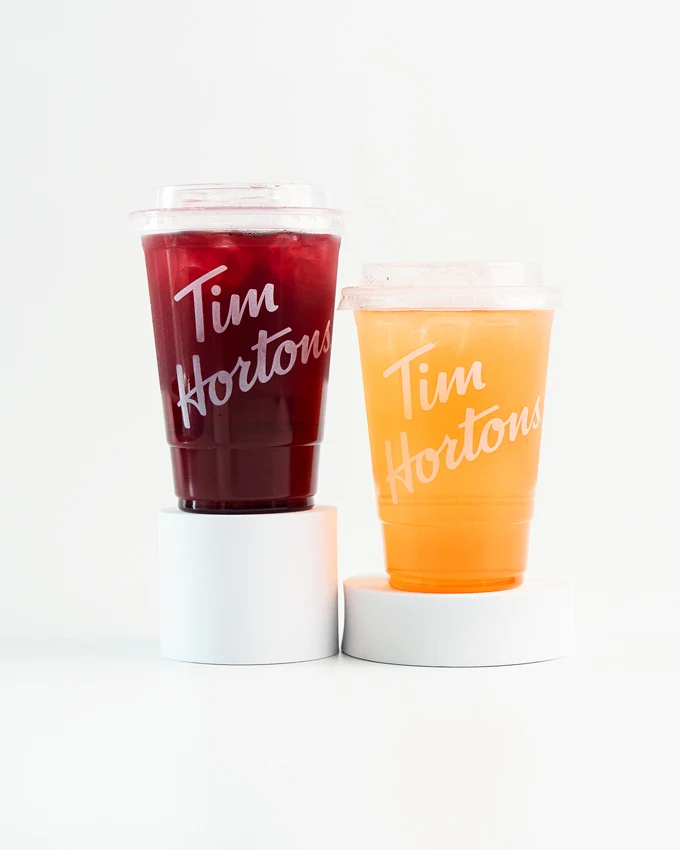 Pricing is based on a single Tim Hortons in Toronto at 438 University Avenue, Toronto. Check your location Tim Hortons for accurate pricing.
The current Tim Hortons Quenchers Lineup includes Orange Ginger Sparkling Quencher; Blackberry Yuzu Sparkling Quencher; Strawberry Watermelon Quencher; Peach Quencher and Classic Lemonade Quencher.
Orange Ginger Sparkling Quencher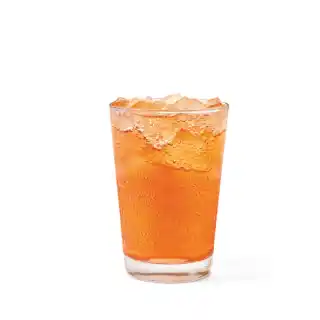 Price: Small ($2.79), Medium ($3.29), Large ($3.79)
Nutrition for small size:
Calories 70 kcal
Fat 0.1 g
Saturated Fat 0 g
Trans Fat 0 g
Cholesterol 0 mg
Sodium 0 mg
Carbohydrates 18 g
Fiber 0 g
Sugar 18 g
Proteins 0.1 g
Nutrition for medium size:
Calories 110 kcal
Fat 0.1 g
Saturated Fat 0 g
Trans Fat 0 g
Cholesterol 0 mg
Sodium 1 mg
Carbohydrates 27 g
Fiber 0 g
Sugar 27 g
Proteins 0.1 g
Nutrition for large size:
Calories 140 kcal
Fat 0.1 g
Saturated Fat 0 g
Trans Fat 0 g
Cholesterol 0 mg
Sodium 1 mg
Carbohydrates 35 g
Fiber 0 g
Sugar 35 g
Proteins 0.1 g
Blackberry Yuzu Sparkling Quencher
Price: Small ($2.79), Medium ($3.29), Large ($3.79)
Nutrition for small size:
Calories 90 kcal
Fat 0.1 g
Saturated Fat 0 g
Trans Fat 0 g
Cholesterol 0 mg
Sodium 0 mg
Carbohydrates 22 g
Fiber 0 g
Sugar 22 g
Proteins 0.1 g
Nutrition for medium size:
Calories 130 kcal
Fat 0.1 g
Saturated Fat 0 g
Trans Fat 0 g
Cholesterol 0 mg
Sodium 1 mg
Carbohydrates 32 g
Fiber 0 g
Sugar 32 g
Proteins 0.1 g
Nutrition for large size:
Calories 170 kcal
Fat 0.1 g
Saturated Fat 0 g
Trans Fat 0 g
Cholesterol 0 mg
Sodium 1 mg
Carbohydrates 42 g
Fiber 0 g
Sugar 42 g
Proteins 0.1 g
Strawberry Watermelon Quencher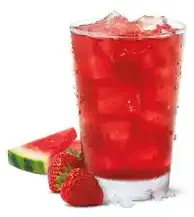 Price: Small ($2.29), Medium ($2.69), Large ($3.19)
Nutrition for small size:
Calories 108.4 kcal
Fat 0 g
Saturated Fat 0 g
Trans Fat 0 g
Cholesterol 0 mg
Sodium 12.9 mg
Carbohydrates 28.2 g
Fiber 0 g
Sugar 25.3 g
Proteins 0 g
Nutrition for medium size:
Calories 147.8 kcal
Fat 0 g
Saturated Fat 0 g
Trans Fat 0 g
Cholesterol 0 mg
Sodium 17.9 mg
Carbohydrates 38.4 g
Fiber 0 g
Sugar 34.3 g
Proteins 0 g
Nutrition for large size:
Calories 189 kcal
Fat 0 g
Saturated Fat 0 g
Trans Fat 0 g
Cholesterol 0 mg
Sodium 23.1 mg
Carbohydrates 49 g
Fiber 0 g
Sugar 43.8 g
Proteins 0 g
Peach Quencher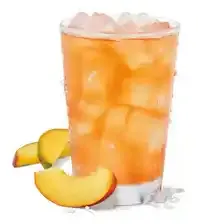 Price: Small ($2.29), Medium ($2.69), Large ($3.19)
Nutrition for small size:
Calories 111.3 kcal
Fat 0 g
Saturated Fat 0 g
Trans Fat 0 g
Cholesterol 0 mg
Sodium 10.9 mg
Carbohydrates 28.9 g
Fiber 0 g
Sugar 26.1 g
Proteins 0 g
Nutrition for medium size:
Calories 152.1 kcal
Fat 0 g
Saturated Fat 0 g
Trans Fat 0 g
Cholesterol 0 mg
Sodium 15 mg
Carbohydrates 39.4 g
Fiber 0 g
Sugar 35.4 g
Proteins 0 g
Nutrition for large size:
Calories 194.6 kcal
Fat 0 g
Saturated Fat 0 g
Trans Fat 0 g
Cholesterol 0 mg
Sodium 19.3 mg
Carbohydrates 50.4 g
Fiber 0 g
Sugar 45.3 g
Proteins 0 g
Classic Lemonade Quencher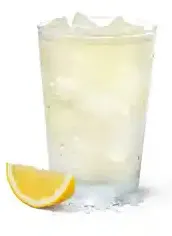 Price: Small ($1.99), Medium ($2.29), Large ($2.69)
Nutrition for small size:
Calories 85.3 kcal
Fat 0 g
Saturated Fat 0 g
Trans Fat 0 g
Cholesterol 0 mg
Sodium 7.9 mg
Carbohydrates 22.9 g
Fiber 0 g
Sugar 21 g
Proteins 0 g
Nutrition for medium size:
Calories 113.4 kcal
Fat 0 g
Saturated Fat 0 g
Trans Fat 0 g
Cholesterol 0 mg
Sodium 10.5 mg
Carbohydrates 30.4 g
Fiber 0 g
Sugar 28.4 g
Proteins 0 g
Nutrition for large size:
Calories 144.7 kcal
Fat 0 g
Saturated Fat 0 g
Trans Fat 0 g
Cholesterol 0 mg
Sodium 13.4 mg
Carbohydrates 38.8 g
Fiber 0 g
Sugar 36.2 g
Proteins 0 g
link